Baying Mob Attacks Hong Kong Students as Talks Shelved
Bloomberg News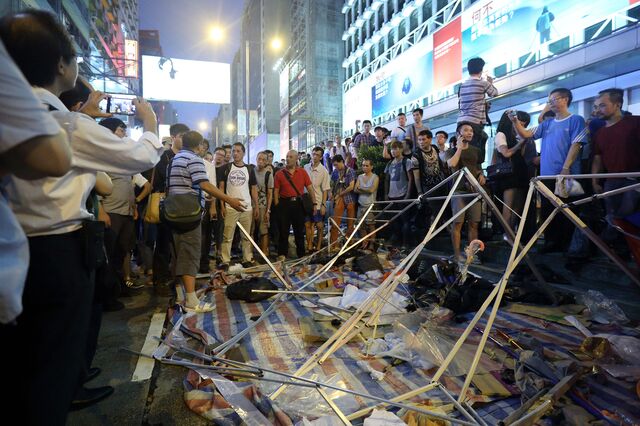 Attacks on pro-democracy protesters in Hong Kong yesterday by hundreds of men, including some with suspected ties to organized crime, prompted the student demonstrators to shelve talks aimed at ending their week-long occupation of several key commercial areas.
Hong Kong's embattled leader, Leung Chun-ying, appealed for calm last night after the baying mobs, which began gathering in the afternoon, tussled with the protesters, shouted abuse and tried to remove barricades the students erected in the city's Mong Kok district. Police arrested 19 people following clashes, including eight suspected of having triad gang backgrounds, Senior Superintendent Kwok Pak-chung said at a briefing today.
Student leaders, in response, accused the government of betraying their trust by allowing organized violence against them and shelved talks agreed to on Oct. 2. With dialog on hold, prospects receded for a negotiated solution to the biggest crisis Hong Kong and its Communist Party overlords have faced since the British handed back sovereignty in 1997.
"The government and police have allowed triads and thugs to use violence to attack peaceful protesters, cutting off the road to any conversation, and should be responsible for any fallout that results," the Hong Kong Federation of Students said in the posting on its Facebook page titled "Road to Dialogue Must be Shelved."
Protest Injuries
At least 37 people were injured yesterday in the violence, taking the number of those hurt throughout the protests to 131, health officials said. Those demonstrations have paralyzed much of central Hong Kong, closing schools and offices and affecting sales at retailers including Chow Tai Fook Jewellery Group Ltd. The Hong Kong benchmark Hang Seng Index fell 2.6 percent in the week, its steepest drop since March.
The biggest social upheaval in the city for almost half a century was sparked after protesters began gathering Sept. 26 to demand a greater choice of candidates in the 2017 leadership contest, and the resignation of Leung.
People opposed to the demonstrations first confronted protesters in Causeway Bay yesterday, a popular shopping district, and later in Mong Kok -- a working-class area across the harbor from central Hong Kong in Kowloon that bustles with nightlife and food stalls. Since April, police have also arrested at least five for drug possession in Mong Kok and 81 for prostitution, according to Radio Television Hong Kong.
Students Challenged
Crowds of men attempted to cross a thin line of police officers in Mong Kok to get at student protesters, who are mainly dressed in black tee shirts with yellow ribbons pinned on sleeves. The men -- many of whom refused to speak with reporters -- taunted the students and challenged them to fights.
"If I see those people wearing yellow ribbons, I will crush them," said a man who would only give his surname, Lee, and who was among the men in Mong Kok shouting at the students to leave. "Everyone is affected by this inconvenience. Our police are too tolerant."
Women and girls were targeted in the attacks against the protesters, according to a statement from rights group Amnesty International, which cited incidents of sexual assault, harassment and intimidation in front of watching police.
Police have always worked to crack down on activities by the city's triad gangs, Hong Kong police spokesman Kong Man-keung said at a separate briefing last night, rejecting any suggestions that the police were working with criminals. Leung last night repeated his call for students to leave the streets and said he had told police to maintain law and order.
Riot Shields
Police with riot shields appeared on the streets this morning as crowds swelled, heightening tension on Mong Kok's streets. The South China Morning Post later reported more scuffles between the students and those opposing the protests. The conflicts haven't spread to centrally-located Admiralty, where thousands of demonstrators have set up a stronghold.
"We can't give in now," Candy Chan, 19, a second-year university biology student, said amid rain and thunder before dawn today. "If I leave at the first sign of intimidation then what does that say about our resolve for democracy?"
Disruptions from the protests have alienated some residents.
"I supported the students' ideology in this movement but I don't like their threatening tactics," said Choi Hao Tze, a taxi driver. "The students seem to be too demanding."
Election Rules
The protests that the students started Sept. 26 were triggered by China's decision that candidates for Hong Kong's chief executive in the 2017 elections be vetted by a committee, which pro-democracy groups say will give China control over who is on the ballot. Crowds swelled after police dragged off students who tried to storm the main square of the government headquarters on Sept. 26 and then used tear gas two days later in a bid to disperse the spreading demonstrations.
"I am indeed very concerned about the clashes we have seen in Mong Kok," Carrie Lam, the city's second-highest ranking official, told reporters yesterday. "These protests on the streets have great vulnerability to turn into critical violence between the protesters and the anti-protesters."
Lam was appointed by Leung to open talks with students.
Lee Cheuk-yan, a pro-democracy Labour Party lawmaker, said he still hoped the students would meet Lam.
"Their positions are so far apart, that there really does not seem to be much middle ground," Lee said. "But it's good to talk, because dialogues defuse tension."
— With assistance by Cathy Chan, Jonathan Browning, and Natasha Khan
Before it's here, it's on the Bloomberg Terminal.
LEARN MORE