Great Topline Jobs Number, Still Big Problems For Democrats on the Economy
The lowest jobless rate since 2008 underscores Obama's economic message, but is it too late for Democrats?
By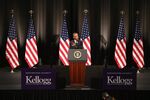 President Barack Obama spent nearly an hour yesterday extolling what the administration believes are the unseen virtues of the U.S. economy under his watch. Today he got a jobs number to underscore that point.