Freelance NBC Cameraman Diagnosed With Ebola in Liberia
Kanoko Matsuyama and Michelle Fay Cortez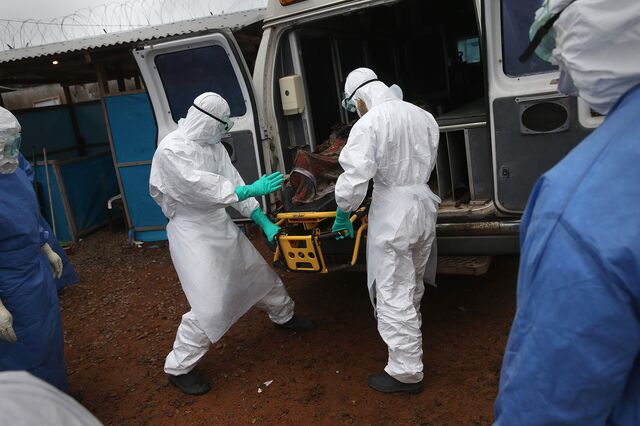 An American freelance television cameraman in Liberia diagnosed with Ebola will be flown to a Nebraska hospital for treatment, the latest patient infected with the deadly virus to be cared for in the country.
The 33-year-old cameraman, Ashoka Mukpo, was hired by NBC News on Sept. 30, the network said yesterday on its website. He will be transported to the U.S. tomorrow and treated at Nebraska Medical Center, the news network said. The Omaha hospital last month cared for missionary Rick Sacra at its biocontainment unit after he contracted Ebola delivering babies in West Africa.
Thomas Eric Duncan, who traveled from Liberia to Dallas, was found this week to have Ebola, making him the first patient diagnosed in the U.S. Sacra and two other American aid workers who contracted the disease in Africa have been evacuated to U.S. hospitals, treated and discharged.
The Ebola outbreak has been concentrated in three West African countries, Liberia, Sierra Leone and Guinea. The outbreak there has infected almost 7,500 people and killed more than 3,400 so far, according to World Health Organization.
U.S. public health officials have been isolating and testing travelers who return from the region with symptoms of the disease. They have minimized the chance of a major outbreak in the U.S., saying the country's superior medical infrastructure would be able to quickly isolate the disease.
Snyderman's Crew
Mupko had been working in Liberia for the past three years and was diagnosed with Ebola on Oct. 2. He was a second cameraman for Nancy Snyderman at NBC News, who has been covering the outbreak in the Liberian capital of Monrovia with three other employees.
"We are doing everything we can to get him the best care possible," NBC News President Deborah Turness said in a note to staff that was posted on its website. "He will be flown back to the United States for treatment at a medical center that is equipped to handle Ebola patients."
The rest of the crew have no symptoms or warning signs, and are being closely monitored, the media organization said.
The company will also fly them back on a private charter flight and will place them under quarantine in the U.S. for 21 days, which is at the most conservative end of medical guidance for such measures, it said.
There is no approved treatment for Ebola, though drugmakers are attempting to develop vaccines or medicines that could be used in this or a future outbreak. Current care involves isolating the patient so they can't infect others, and providing supportive treatment such as intravenous fluids and antibiotics to fight opportunistic infections.
"The doctors are optimistic about his prognosis," NBC News quoted Mukpo's father, Mitchell Levy, as saying in a message to family and friends.
Before it's here, it's on the Bloomberg Terminal.
LEARN MORE