EasyJet Profit Gains as Air France Strike Hurts Loyalties
Kari Lundgren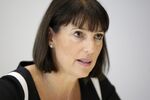 EasyJet Plc said full-year profit rose at least 20 percent as Europe's second-biggest discount carrier targeted corporate traffic and saw traffic surge following strikes at network rival Air France-KLM Group.
Luton, England-based EasyJet rose the most in 2 1/2 months after saying pretax profit for the 12 months to Sept. 30 was between 575 million pounds and 580 million pounds ($928 million to $936 million), up from 478 million pounds a year earlier.
EasyJet has intensified a push to lure business travelers, offering allocated seats, flexible tickets, fast-tracking and higher frequencies on key routes. The move has sharpened competition with full-service carriers including Air France and Deutsche Lufthansa AG, where strikes over plans to cut short-haul costs are pushing passengers in its direction.
"EasyJet is becoming more and more of a mainstream airline," said Gert Zonneveld, a London-based analyst at Panmure Gordon with a "buy" recommendation on the stock. "It's an acceptable business-choice airline and it's increasing its exposure. Once they see that product, people stick."
EasyJet, which had previously forecast a full-year profit of 545 million pounds to 570 million pounds, rose as much as 83 pence, or 6.1 percent, the sharpest gain since July 16. The stock traded 5.6 percent higher at 1,448 pence as of 9:28 a.m. in London, paring its retreat this year to 3 percent and valuing the airline at 5.76 billion pounds.
Fuel Boost
The profit range beat the 571.9 million-pound average estimate of 18 analysts, aided by a 5 million-pound sales boost from the Air France strike, EasyJet said. The U.K. carrier added more than 3,000 seats in France between Sept. 15 and 25 as a walkout grounded half of its Paris-based rival's daily flights.
EasyJet has also established a footprint at key locations such as Amsterdam Schiphol, where it announced plans to base planes in July, and is ramping up operations at London Gatwick airport, its biggest single base.
Revenue per seat grew about 1.5 percent at constant currencies in the fiscal fourth quarter, driven by "a strong finish to the summer season," EasyJet said. The airline said it has sold more than 25 percent of seats available for the first half of the new year, slightly ahead of last year.
The carrier saw a 2 million pound boost from favorable fuel prices, as well as a 15 million pound positive currency effect, in the second half. The trend is expected to continue for the next six months, reducing EasyJet's fuel and exchange costs by about 30 million pounds. The company is 78 percent hedged at an average price of $948 a metric ton next fiscal year.
Fleet Plan
"We finished the year strongly," Chief Executive Officer Carolyn McCall said in the release. The performance "further emphasizes EasyJet's structural advantage against both legacy and low-cost competition," she added.
EasyJet last month announced plans to boost dividend payouts to 40 percent of profit after tax from one-third, starting this year. It also said it would exercise purchase rights for 27 Airbus Group NV A320 planes, bringing flexibility to operate a fleet of between 204 and 316 aircraft by 2019, according to demand. It has just over 220 A320s and A319s today.
Discount rivals such as Ryanair Holdings Plc and Norwegian Air Shuttle AS are also adding seats, while older operators are striving to become more competitive low-cost units including Transavia at Air France-KLM, Germanwings at Lufthansa and Barcelona-based Vueling at British Airways owner IAG SA.
Dublin-based Ryanair, Europe's biggest low-cost carrier, reports first-half results Nov. 3. The company said Sept. 25 that annual earnings will be at the upper end of a 620 million euro to 650 million euro ($786 million-$824 million) range.
Before it's here, it's on the Bloomberg Terminal.
LEARN MORE