Drop in U.S. Labor Force Hard to Pin on Discouraged Workers
Michelle Jamrisko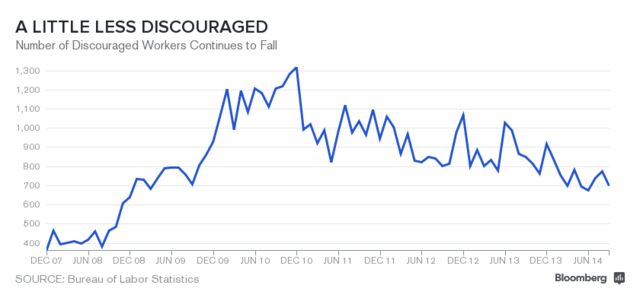 It's getting increasingly difficult to blame the incredibly shrinking U.S. workforce on bummed-out Americans.
The pool of discouraged workers, those who are no longer hunting for a job because they believe none is available, shrank to 698,000 in September from 775,000 the prior month, according to Labor Department figures. The participation rate, which measures the number of Americans employed or looking for a job as a share of the working-age population, decreased to 62.7 percent, the lowest since February 1978.
That probably means that what economists call structural or secular elements, including the retirement of baby boomers or people deciding to leave work to start families or go back to school, are more likely behind the continued exodus that is helping drive down unemployment. Federal Reserve policy makers have little influence over these trends since an improving economy won't bring many of those people back.
"More of the decline in the participation rate is secular," said Tom Porcelli, chief U.S. economist at RBC Capital Markets LLC in New York, who projected the jobless rate would fall. If this continues, "the participation rate is going to continue to decline as a result."
The number of people going from being unemployed to leaving the labor force was at 2.19 million in September, close to the 2.15 million February reading that was the lowest since November 2008, according to the Labor Department. Because the data are volatile, it's probably best to look at the average over the past three months, which at 2.25 million was the lowest since January 2009.
Discouraged workers don't register as unemployed because they don't meet the requirement of actively looking for work.
Age Groups
Labor force dropouts were spread across almost every age group in September, with only teenagers and 20- to 24-year-olds showing a pickup in participation. Among 25- to 34-year-olds the participation rate shrank to 80.9 percent, reversing the August increase.
A smaller labor force last month helps explain a decline in the jobless rate to 5.9 percent, the lowest since July 2008, from 6.1 percent. While Fed Chair Janet Yellen has advocated using a dashboard of indicators to assess the labor market, she and other economists maintain that the rate still captures the progress in employment.
"We think much of the decline in labor force participation is structural and that the unemployment rate remains a good guide to the state of the labor market," economists at Capital Economics wrote in a research note after the report.
Before it's here, it's on the Bloomberg Terminal.
LEARN MORE