The Supreme Court Will Decide if Abercrombie Is Guilty of Religious Discrimination
By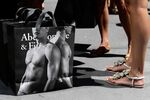 As if Abercrombie & Fitch didn't have enough problems. The teen retailer has been criticized for its racy ads, stale fashions, and decision (since reversed) to shun large customers. Its sales have been slowing. Mike Jeffries, the company's controversial chief executive, lost his job as chairman early this year as a result. Now the Supreme Court has decided to hear a case in which a Muslim woman in Oklahoma alleges that Abercrombie declined to hire her because she wore a head scarf for religious reasons.
Abercrombie is all about image. The company calls its sales associates "models" and strictly enforces its "Look Policy," which details acceptable hair styles, make up, jewelry, clothes, and clothes. Jeffries even had a 40-page manual for the actors and models who worked on the company's Gulfstream jet. Men had to be clean shaven and wearing Abercrombie polo shirts, boxer briefs, and flip flops. The manual was disclosed in an age discrimination lawsuit by a former pilot.
Samantha Elauf was 17 in 2008 when she applied for a sales job at an Abercrombie Kids store in a mall in Tulsa. She had been told by a friend who worked for the retailer that wearing a hijab wouldn't be a problem—as long as it wasn't black. Sales associates can't wear black at Abercrombie.
During her interview, Elauf wore a head scarf and the assistant manager scored her style a 6, which was good enough to be hired. When the assistant manager sought approval for Elauf's hijab, though, a supervisor said the head scarf didn't meet Abercrombie's look policy. Hats are not allowed at Abercrombie. The supervisor later said he didn't know that Elauf wore the scarf for religious reasons. Elauf wasn't hired.
The Equal Employment Opportunity Commission filed a suit against Abercrombie on Elauf's behalf in 2009. A jury awarded $20,000 in damages, but that decision was reversed last year. The court said the company couldn't be held liable because Elauf never explicitly notified Abercrombie that her religious practice conflicted with company policies. The EEOC petitioned the Supreme Court to review the case.
Meanwhile, the EEOC sued Abercrombie on behalf of two other Muslim women who wore head scarves. The company agreed to pay them $71,000 and to revise its look policy to allow women to wear head scarves for religious reasons. "We are happy to have settled these cases and to have put these very old matters behind us," the company told the Huffington Post in September 2013.
Oral arguments in Elauf's case will likely take place early next year.
Before it's here, it's on the Bloomberg Terminal.
LEARN MORE