How to Grow Rich Without Losing Your Manufacturing
Sharon Chen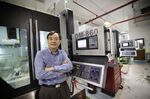 A Boeing Co. 737 takes off or lands somewhere in the world every two seconds. Helping ensure the operations go smoothly is the business of Singapore's Lien Whai Cheng.
Lien's Singapore factory makes high-performance parts that help hold the 737's landing gear together, an example of the specialized products that are allowing the city to keep an industrial base even as labor costs climb.
"We have to stay one step ahead," says Lien, who started Coway Engineering & Marketing Pte. in 1996 making tools for airplane repairs and today customizes insulated components known as bushings for landing gear when they need to be replaced. While Singapore has constraints posed by space and labor, "the competition is worldwide," he says. "It's hard for people like us to survive."
Squeezed in among Singapore's shopping malls, banking office towers and its casinos are thousands of factories that contribute about one-fifth of the island's economy. That's the same as in Switzerland, and almost 10 times the share in rival Hong Kong. Success in shifting to precision engineering helps provide a cushion for fluctuations in sectors such as tourism, and creates high-wage jobs that buttress spending. The model, the fruit of an open economy where officials drew on management gurus including Harvard University's Michael Porter, now faces rising competition as China focuses on more advanced industries.
'Very Niche'
"They are moving up into very niche, high value-added sectors where surely wage competitiveness is not going to be the determining factor," said Vishnu Varathan, a Singapore-based economist at Mizuho Bank Ltd., referring to the island state. "It's not as easy as churning out a hard drive -- that's just not going to work for Singapore's model."
Varathan was referring to the city's 1990s history as the world's biggest maker of hard-disk drives, the type of mass-production that China later came to dominate. With about one third the size and half the population of China's southern industrial city of Shenzhen, Singapore still gets 19 percent of its gross domestic product from manufacturing, compared with less than 10 percent for economies including Hong Kong and Australia.
After experiencing its first post-independence recession in 1985 and 1986, the city-state's senior officials were influenced by strategies to boost competitiveness expounded by academics including Harvard Business School's Porter and Bruce Scott, according to Toh Mun Heng, an associate professor at National University of Singapore's business school who has advised the ministries of trade and finance since the 1990s.
Government Strategy
Prime Minister Lee Hsien Loong, son of Lee Kuan Yew, who led Singapore from post-colonial independence to 1990, has continued a strategy of investing in research and development and nurturing industrial clusters as he oversees the S$364 billion ($286 billion) economy.
The government has committed S$16.1 billion to research and development from 2011 to 2015, a 20 percent increase over the previous period. It has spent millions on specialized facilities, from a 320-hectare aerospace park that lured companies including Rolls-Royce Holdings Plc and Pratt & Whitney to a 22-hectare complex to host biomedical research facilities including Procter & Gamble Co.'s S$250 million center.
The shift from making plastic flowers and mosquito coils to Boeing aircraft components and the development of bespoke medicines tailored to treat people of different ethnic backgrounds has stoked the interest of international companies looking for a place to site some of their production.
Norwegian Investor
Norway's Renewable Energy Corp ASA spent S$2.6 billion on its largest solar manufacturing complex in the city, following the nation's stated intention to be a "solar hub." It employs 1,600 people on the island today, according to Martin Cooper, chief executive officer of REC Solar ASA, which was listed as a separate company in 2013.
"Because of the nature of the industries that were already here, although none of them were solar, there was a right level of competence," Cooper said in a Sept. 5 interview at the REC factory. "If you want the very top quality talent, it's a country that people are happy to move to, compared to some of the other locations."
Diversity of products also carries a risk -- that fragmentation means Singapore could end up with many industries that don't fit together, said Hawyee Auyong, a research associate at the Lee Kuan Yew School of Public Policy in Singapore. While manufacturing remains a significant part of the economy, it has fallen from about 30 percent of GDP in 1980.
China Threat
The competition in high-end production is also rising. More than half of China's $4.2 trillion in trade last year involved significant value added by Chinese workers, while lower-value processing trade fell below one-third of the total as the government reorients the economy and factory wages increase, according to Ministry of Commerce figures.
Medical technology, chemicals manufacturing and marine engineering sectors are among those targeted for development by the country's Economic Development Board. It's important that manufacturing continue to account for about 20 percent of the economy even as its composition changes to keep up with shifting cost structures, EDB Managing Director Yeoh Keat Chuan said in an Aug. 18 interview in New York.
Higher Pay
"Manufacturing is still a core component of our gross domestic product; we cannot depend on only one sector," Benjamin Seet, executive director of the biomedical research council at a Ministry of Trade and Industry agency known as A*Star, said in an interview in August. "We want higher manufacturing jobs that employ a higher-educated population."
Higher pay levels underscore the importance of that objective. The median monthly income of the city's 280,000 resident manufacturing workers was S$4,162 as of June 2013, compared with S$1,800 for their counterparts in the accommodation and food services industries, according to data from the Ministry of Manpower.
Factory jobs also support work in services, and having an industrial base creates the need for functions such as research and marketing.
"In Singapore right now more people are working on R&D rather than manufacturing; the value-add would be very much on design," said Adeline Wong, director of Superworld Electronics Pte.
Miniature Transformers
Wong's company is another example of Singapore's shift to niche fabrication. It has moved from mass producing batches of 10,000 to 20,000 standard-sized magnetic components for electronics products to customizing miniature transformers in batches of 500 to 1,000. The customized products are used in Hewlett-Packard Co. laptop chargers, Nvidia Corp. and Advanced Micro Devices Inc. graphic cards and mobile phones.
Smaller firms, which make up most of the nation's enterprises, can tap a government program to improve productivity. Officials pledged S$3.6 billion over three years in the latest budget to extend the initiative. Among the beneficiaries is Lien's Coway.
"We have to get ourselves ready to make these high-end products, then we are able to stay put in Singapore," he said. "A lot of people are giving up."
Before it's here, it's on the Bloomberg Terminal.
LEARN MORE