Rome Blogger Exposes City Ravaged by Neglect
In Rome, a crusading blogger exposes a ravaged city
By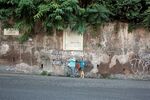 The neighborhood in which Massimiliano Tonelli is walking is more than 100 years old, built in central Rome shortly after the unification of Italy. Monumental buildings rise around a central park, in the corner of which lie the ruins of an ancient Roman fountain. The Colosseum is a 15-minute walk away.
As the 35-year-old blogger ambles, he counts off the blemishes: cracks and pits in the sidewalk; walls plastered with posters and pamphlets; beer bottles lying around a garbage bin; cars illegally and dangerously parked; a man drying his laundry on a park bench. "The city is so beautiful, potentially," he says. "It's absurd that it be left like this." He looks up at one of the 19th century buildings, its facade resplendent in the morning sun. "Rome is a city that's only beautiful from 3 meters high and upwards."
Italy is one of the countries hardest hit by euro zone troubles, and its capital is no exception. A study by the retailers organization Confcommercio found that per capita disposable income in Rome and the surrounding region has dropped 11 percent since the start of the financial crisis. The city, burdened with about €14 billion ($17.7 billion) in debt, is flirting with bankruptcy; to pay its more than 50,000 employees, Rome has had to ask for bailout funds from the central government every year since 2008.
Tonelli, a food writer by trade, has emerged as one of the most widely read—and controversial—chroniclers of the degradation. Under his scrutiny, violations of municipal rules are uncovered and posted on his blog, Roma Fa Schifo. (The name is a mild vulgarity that loosely translates as "Rome Sucks" or "Rome Is Disgusting.") Posts on the blog's Facebook page get hundreds of "likes" and dozens of comments. Readers from across the city send in photographs and stories. In a radio interview last year, the mayor of Rome, Ignazio Marino, said he was a careful reader of the blog, including the comment section.
"Wait, I want to take a picture," Tonelli says. He pulls out his smartphone and snaps a shot of a poster for a political party plastered illegally on the inside of an historic arcade. "People don't see a poster like this as something strange," he says. "If you try to stop somebody while they're putting this up, they'll have no idea what you want from them."
Tonelli started Roma Fa Schifo and a few other related but less successful blogs in 2007 to raise awareness of problems that Romans were starting to take for granted. "When people here see something that's organized, something that works, they say, 'That doesn't look like Rome,' " he says. His subjects include vandalized subway cars and seemingly abandoned public parks. Some memorable images on his site: pigs rooting through garbage outside a dumpster, a graffiti-scarred maternity ward in a public hospital, and half-redone crosswalks where the city's workers had to paint around parked cars. "Rome doesn't have a single street where everything is normal," he says. "I can … find 10 things that shouldn't be there."

Often, Tonelli's targets are minorities: immigrants illegally selling souvenirs or Roma (also called gypsies) digging in dumpsters or allegedly picking pockets on the subway. He's been accused of racism, a charge he denies. "Italy is a country that isn't growing, so immigration is fundamental," he says. Mostly, he adds, the subjects of his posts aren't foreigners but Romans: "We're against anybody who doesn't follow the law. If those people are Roman, Milanese, Pakistani, or Swiss, it's the same."
What makes Rome hard to change, Tonelli argues, are Romans. A few small groups have attempted to lead cleanup efforts, but the popular response has been slow. When the mayor rerouted traffic to turn the area around the Colosseum into a pedestrian zone, shopkeepers in some streets protested because the plan would make it harder for their customers to double-park.
What Romans don't understand, Tonelli says, is that neglecting the city's needs imposes costs on all—suppressed tourism, businesses that can't compete with tax-dodging rivals, the psychological toll of living in filth. "Everybody has their small advantage," he says. "It's easier to park illegally. It's cheaper to buy from the guy on the street. But when it's all together, it's a lot of economic damage."
Tonelli stops at the entrance of the subway to photograph more illegally plastered posters. Later that day the snapshots will appear in posts on Facebook and Twitter. His attention turns to the rooftops. "You remember when I said Rome is beautiful from 3 meters and up? Well …" The skyline is a forest of antennae and satellite dishes. Coaxial cables hang like jungle vines. "The only thing we're missing," he says, "is Tarzan."
BOTTOM LINE -
The bottom line: Rome is flirting with bankruptcy and depends on the central government for handouts to help cover the city payroll.
Before it's here, it's on the Bloomberg Terminal.
LEARN MORE