Rio $5.4 Billion Copper Project Mired as Deadline Missed
Simon Casey and David Stringer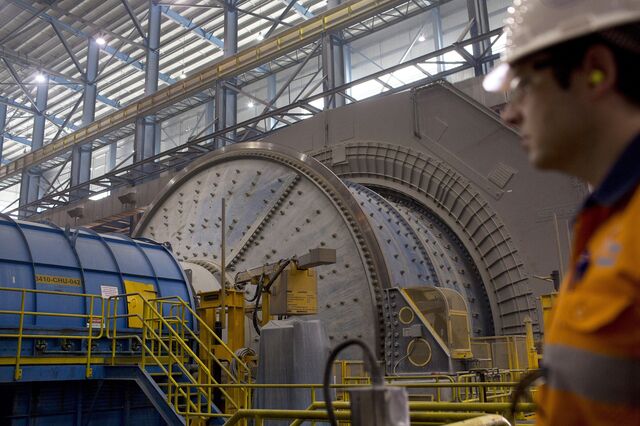 Rio Tinto Group and the Mongolian government broke another deadline set by lenders for the $5.4 billion expansion of their Oyu Tolgoi project, raising concerns over the earnings outlook for Rio's copper business and the strength of the Mongolian economy.
Commitments from project finance lenders expired Sept. 30, Rio's unit in Canada, Turquoise Hill Resources Ltd., said in a statement yesterday. Oyu Tolgoi's shareholders haven't asked for those commitments to be extended, although "engagement" with lenders continues, it said.
"With iron ore in decline, the market is looking for Rio's other businesses to fill the gap," said David Radclyffe, a Sydney-based analyst at CLSA Asia-Pacific Markets. "The market is concerned from the point of view that Rio needs to do the expansion to give its copper business relevance."
Underground development at Oyu Tolgoi, the largest foreign investment in Mongolia, has been held up for more than 18 months on disputes between London-based Rio and the government over taxes due and cost overruns, among other issues. Copper accounted for 11 percent of Rio's revenue in the 2013 fiscal year, behind iron ore and aluminum.
An Oyu Tolgoi board meeting was scheduled yesterday, according to Mongolia's mining ministry. Three Mongolian members of the board didn't respond to phone calls after the meeting. A call and e-mail to the government's cabinet secretary Saikhanbileg Chimed went unanswered.
Third Deadline
Oyu Tolgoi, located about 80 kilometers (50 miles) north of the Chinese border, is forecast to contribute about a third of Mongolia's economy when in full operation and will be the world's third-biggest copper mine, Turquoise Hill said in a January presentation.
Financing for the underground development was set to involve 15 banks. Sept. 30 marks the third missed deadline to meet the financing terms during the course of the dispute.
"The delay was going to happen," said Narantuguldur Saijrakh, director of Khan Investment Management, a Singapore-based investment company with a focus on Mongolia. "There will be no immediate impact on the economy but if delays continue for another six months that could be a difficult situation."
Coal Assets
Without expansion, Rio would need to consider a writedown of the mine, Radclyffe said. The project had a book value of $4.96 billion at the end of June, according to an August filing.
"Rio doesn't want to do that, as they've just had to make some pretty embarrassing writedowns as it is," Radclyffe said. Rio in July sold Mozambique coal assets for $50 million, after writing down the mines acquired in a A$3.9 billion ($3.4 billion) deal in 2011.
Rio spokesman Bruce Tobin in Melbourne couldn't immediately be reached for comment. Its stock fell 0.2 percent at the close of trading in Sydney.
Rio owns a 51 percent stake in Vancouver-based Turquoise Hill, which in turn holds 66 percent of Oyu Tolgoi. The Mongolian government has the remainder.
Before it's here, it's on the Bloomberg Terminal.
LEARN MORE