Renault Targets Higher Prices With Minivan's SUV Redesign
Mathieu Rosemain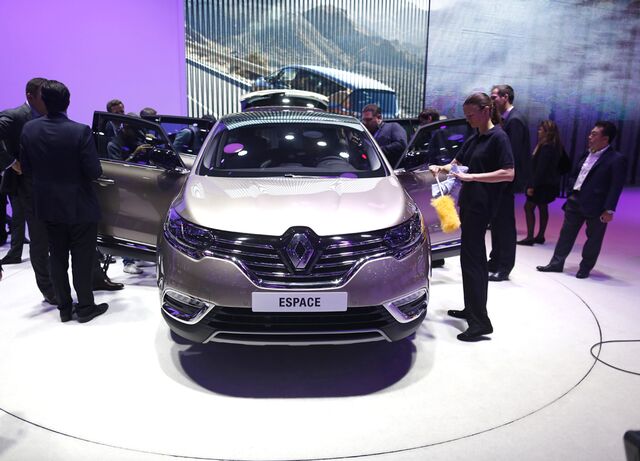 Renault SA outfitted the Espace minivan, its most expensive model, with a more aggressive front end to give it the look of a sport-utility vehicle as Europe's third-largest carmaker seeks a more upscale image.
The new Espace, which debuted today at the Paris Motor Show and goes on sale in spring 2015, gets an elevated stance and flowing chrome accents in the first of a series of vehicles with more elegant styling. With the shift, the French manufacturer aims to ask higher prices from customers in Europe's stagnating car market and create a bigger gap between its namesake brand and its no-frills Dacia line.
The Espace comes in five- and seven-seat versions and is among the biggest passenger cars in Europe. It's a difficult choice to kick off the effort because the minivan segment is declining, said Philippe Houchois, a London-based automotive analyst at UBS Ltd.
"There's no great future for an Espace as defined as a pure minivan," he said. "By elevating the driver's seat while keeping this sense of space, it could be an alternative to other vehicles."
The Espace, which was first introduced 30 years ago, was once an anchor in Renault's lineup, with 1.25 million of the minivan sold over its lifetime. Sales have faded in recent years as SUVs become more popular for people seeking a spacious vehicle and the model ages.
Initiale Paris
Renault sold about 8,400 Espaces in Europe last year, tumbling 80 percent since 2007. Over the same period, the European market for minivans such as the Espace, Volkswagen AG's Sharan, Ford Motor Co.'s S-Max and the Mercedes-Benz V-Class fell 45 percent to 230,800 vehicles, according to IHS Automotive.
"When you look at it, you're going to say it's a crossover," Renault Chief Executive Officer Carlos Ghosn said in an interview with Bloomberg TV today. "When you sit in it, you're going to say it's a minivan. It's an innovation."
Renault is overhauling the look of its lineup under new chief designer Laurens van den Acker. After the overhaul of the Espace, the Boulogne-Billancourt, France-based company plans to transform its Initiale Paris insignia into a separate luxury line as well as revive the Alpine sports car brand. Adding more luxury touches to vehicles is one of the few ways to increase revenue in Europe's saturated auto market.
Industrywide sales in the region grew 1.8 percent in August, the smallest increase this year, as a recovery from a two-decade low last year slows. Deliveries in the fourth quarter are forecast to decline 0.3 percent, IHS estimates.
Before it's here, it's on the Bloomberg Terminal.
LEARN MORE