Pierson Went From Confidence to Resignation in Swift Fall
Del Quentin Wilber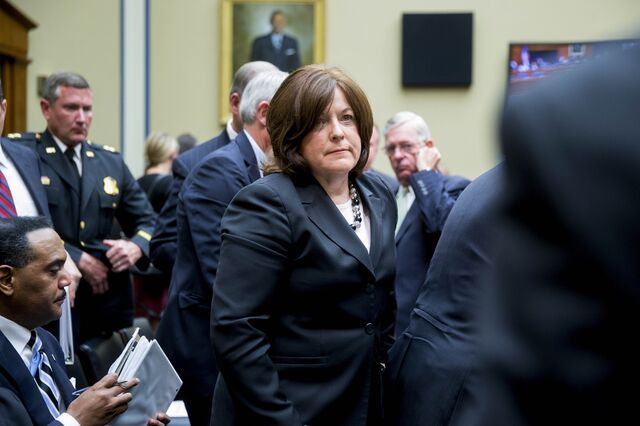 Just two months ago, Secret Service Director Julia Pierson was confident she had begun to put some of her agency's most troubling security lapses behind her.
"It's been a year of challenges and success," Pierson said in an interview on Aug. 8 in her 8th-floor office in downtown Washington. "We are doing great."
That swagger vanished yesterday as Pierson -- a 31-year Secret Service veteran and the first woman to lead the agency -- resigned amid criticisms of security breaches and scandals during her 18-month tenure.
"Congress has lost confidence in my ability to run the agency," she said in a telephone interview yesterday shortly after confirming her resignation. "I can be pretty stoic about it, but not really."
What changed were a series of disclosures about embarrassing security stumbles that rattled lawmakers and the president, as well as what was regarded as a lack-luster performance by Pierson during a contentious congressional hearing a day earlier, according to interviews with agents, former agents, lawmakers and administration officials.
By yesterday afternoon, it had become obvious she couldn't survive in the job amid the inquiries and criticism.
"There were too many things happening under her watch," said John Magaw, a former head of the Service. He added that her testimony at the Sept. 30 hearing "was a disaster, the worst I have ever seen."
Independent Review
Pierson, 55, is leaving an agency that she contended was short staffed because of budget cuts, and one that is grappling with serious training, supervision and culture issues that will be scrutinized during an review by the Department of Homeland Security.
White House spokesman Eric Schultz said today that Obama won't choose a permanent director until after the review is completed in December.
For the time being, it will be led by an interim director, Joseph Clancy, a retired agent who was once in charge of the agency's presidential protective division. Most recently, Clancy was the director of corporate security at Comcast Corp.
During her 18-month tenure, Pierson won plaudits from agents for seeking their opinion and trying to reshape the agency. Still, she had never run a field office, nor a protective detail and was having to run an organization with 7,000 employees that protects the president and investigates an assortment of crimes from counterfeiting to credit card fraud.
Pierson's Qualifications
Pierson described her five-year tenure as the agency's chief of staff this way to lawmakers: "My primary responsibilities at that time were business transformation and IT transformation for the organization. My focus was on the business operations of the organization."
In the Aug. 8 interview, Pierson gave an upbeat assessment of the Secret Service and was enthusiastic about changes she made to the agency's culture. Among her accomplishments, she said, was the publication of an ethics guide and initiating more ethics training, the centralization of the disciplinary process and the establishment of a hotline for employees to call when they spotted trouble.
"I have moved managers around to make sure we have the right skills in the right positions," she said, adding that she was looking forward to hiring more agents and uniformed officers -- she said she was about 500 below optimal staffing levels -- and recruiting more minorities and women.
She was particularly pleased that a major Africa summit in Washington had gone off without any flaws.
Fence Jumper
Within weeks of that August event, however, her trouble started. On Sept. 19, a 42-year-old Army veteran vaulted the White House fence, ran across the lawn and got inside the executive mansion. A Secret Service statement suggested that Omar Gonzalez was nabbed just inside the doors; more than a week later, agency officials conceded he dashed across the first floor of the White House before being apprehended.
The Washington Post on Sept. 27 revealed new details about Secret Service failings following a November 2011 incident in which a man fired shots at the White House.
Just hours after the Sept. 30 House oversight hearing on Tuesday, Secret Service officials confirmed another flub: On Sept. 16 in an Atlanta hotel, an armed security guard with record of criminal convictions was permitted to ride an elevator with Obama, violating security protocols.
The recent lapses followed an embarrassing episode in March involving heavy drinking and an agent passing out at his hotel door on the eve of a presidential visit to the Netherlands.
Criticism Builds
The foul-ups, especially the intrusion into the White House, drew a swell of criticism by lawmakers from both parties, including Obama allies Nancy Pelosi, the U.S. House Democratic leader, and Elijah Cummings, the top Democrat on the House Oversight and Government Reform Committee.
Pierson endured a five-hour interrogation by lawmakers during public hearing and a later closed-door session. Members of Congress from both parties said Pierson had not been passionate enough about fixing the agency and had not answered their questions adequately.
Representative Jason Chaffetz, a Utah Republican, called her testimony evasive and said it damaged her credibility.
"There's obvious deception involved," said Chaffetz,who joined other Republicans yesterday in urging Pierson to resign or be fired.
Information Withheld
For Obama, the final straw was Pierson withholding information about the elevator breach until shortly before it was published by news organizations, despite having briefed the president about security matters on Sept. 25 in the Oval Office, according an administration official familiar with the developments who spoke on condition of anonymity.
Though the Obamas were out of town at the time of the intruder's dash through the White House, the breach left Obama worried about the safety of his wife and two daughters, the official said.
The president did not demand Pierson's resignation, the official said, before she offered it herself during a meeting with Homeland Security Secretary Jeh Johnson.
Pierson said it became clear during that meeting yesterday afternoon that she had no choice.
"After that discussion I felt this was the noble thing to do," she said, because it would "take pressure off the organization."
Confidence Cited
"I kind of felt we were at the point where it was going to be hard for the department and the president to have confidence in the Secret Service leadership if I didn't step down," she said.
"I'm disappointed that I didn't have an opportunity to implement structural and operational changes in the agency," said Pierson, a former Florida police officer who has spent three decades as a Secret Service agent. "I had a vision for the future."
In her August interview, Pierson said she was looking forward to next year's celebration of the service's 150th anniversary -- it was founded in 1865 to battle an epidemic of counterfeiting.
"It's the unique mission of the Secret Service that the public demands for us to be at the highest level of integrity and honor," Pierson said at the time. "And when there is a misstep, it draws attention to the entire organization."
Before it's here, it's on the Bloomberg Terminal.
LEARN MORE