Oil Rout Replaces War for Weary Russian Stock Traders
Halia Pavliva and Ksenia Galouchko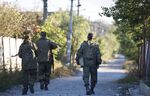 Russian stock investors can't catch a break. As the fighting in Ukraine shows signs of abating, stocks are now beginning to move in lockstep with oil just as prices for the fuel plunge.
Russian stocks are posting the strongest link to oil since February as a slide in Brent crude, Europe's benchmark, coincides with an equity sellof on concern that lower energy revenue and international sanctions tied to the Ukraine conflict will stunt Russian growth. Investors' attention moved away from the war after Ukrainian President Petro Poroshenko said the worst of the fighting against pro-Russian rebels is over.
"The market's focus is gradually shifting away from Ukraine," Oleg Popov, who helps oversee $1 billion at Allianz Investments, the asset management arm of Europe's biggest insurer, wrote in an e-mail yesterday. "The falling oil price, on which the Russian budget depends so much, is pushing people to sell Russian assets."
The dollar-denominated RTS stock index fell 1.6 percent in Moscow yesterday, extending its decline since June 24 to 23 percent. The gauge's 55-day correlation with Brent increased to 0.16, the highest since the end of February. A reading of 1 implies two securities are trading in lockstep, while minus 1 signals the opposite.
As Russia, which receives about half of its budget revenue from oil and natural gas sales, annexed Crimea in March, the relationship between the two assets plunged to minus 0.4, matching the lowest level since at least 2000.
Global Supplies
Brent, Russia's key export earner, has fallen 19 percent from its peak in June. West Texas Intermediate briefly declined below $90 for the first time in 17 months in New York yesterday amid signs that global supplies are outstripping demand as growth in China slows. Investors have been pulling money from Russian equities this year, following sanctions imposed by the U.S. and the European Union for President Vladimir Putin's role in the Ukraine war. Russia has denied involvement.
A Bloomberg gauge of the most actively traded Russian stocks in the U.S. lost 1.3 percent yesterday to 76.76 in a sixth day of declines. The Market Vectors Russia ETF, the largest U.S. dedicated exchange-traded fund tracking the nation's stocks, added 0.6 percent to $22.09. Moscow-based United Co. Rusal lost 0.2 percent to HK$4.31 at 10:31 a.m. in Hong Kong trading.
"Oil is the main driver for the market right now," Sabina Mukhamedzhanova, a money manager at Promsvyaz Asset Management in Moscow, said by phone. "When oil was trading above $100 a barrel, people weren't worried, but when it started nearing $90, everyone got scared. It's better to wait out now because oil hasn't yet hit the bottom."
Sanctions Specter
Poroshenko said last week that the worst of the war is over as Ukraine focuses on securing gas supplies, preparing a bid for EU membership and elected scheduled for this month. Russia said it wants to normalize ties with the EU and the U.S. after being hit by sanctions.
The situation in Ukraine remains unstable and may re-emerge as the main concern for investors, according to Slava Rabinovich, chief executive officer at Diamond Age Capital Advisers in Moscow, which manages $240 million in Russian assets.
"If there is an escalation on the ground in Ukraine, there will be new sanctions on Russia and that will become the market's driver again," Rabinovich said by phone yesterday from Milan, Italy. "The existing sanctions are here to stay for the time being and if there are new measures, they are going to be extremely painful for the economy and consequently for the market."
Forecast Cut
Ukraine's military fought off waves of separatist assaults on the Donetsk airport yesterday, destabilizing a cease-fire that kept violence and casualties in check for most of last month. Belarus President Aleksandr Lukashenko, who helped broker the Sept. 5 truce, told Euronews TV he's ready to send troops as peacekeepers and rebuild trust "between Russia and the West."
Russia's economy will expand 0.5 percent next year, the International Monetary Fund said yesterday, cutting its previous growth forecast in half amid fallout from the conflict in Ukraine and a weaker ruble.
Brent for November settlement slipped 0.8 percent to end the session at $93.42 a barrel on the London-based ICE Futures Europe exchange, the lowest close since June 2012. WTI for November delivery rose 0.3 percent to settle at $91.01 a barrel on the New York Mercantile Exchange. It earlier touched $88.18, the lowest intraday level since April 23, 2013.
WTI Slump
The ruble briefly weakened beyond 44.40 against the Bank of Russia's basket of dollars and euros, the level at which the central bank said it would intervene, before rebounding 0.1 percent to 44.2991 yesterday.
West Texas crude is poised to extend its slump below $90, according to Jason Kenney, an equity analyst at Banco Santander SA, the most accurate forecaster of prices of the grade in the second quarter, according to Bloomberg rankings. U.S. crude production rose to the highest level since 1986 last month, while OPEC output climbed to the highest in a year. Russian data showed the country's output rose to near a post-Soviet era record.
"Russian equities' correlation with oil is back to normal as there is no major escalation in Ukraine," Vadim Bit-Avragim, who helps oversee about $4.1 billion in assets at Kapital Asset Management LLC in Moscow, said by phone yesterday. "The market is driven by oil prices and while the impact of the drop in oil prices is cushioned by a weakening ruble, further declines in oil would be really negative for the Russian market."
Before it's here, it's on the Bloomberg Terminal.
LEARN MORE