HP, Dell, and Cisco Face Threat of Cheap Servers From Their Suppliers
The old guard's manufacturers are getting into the game
By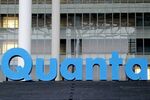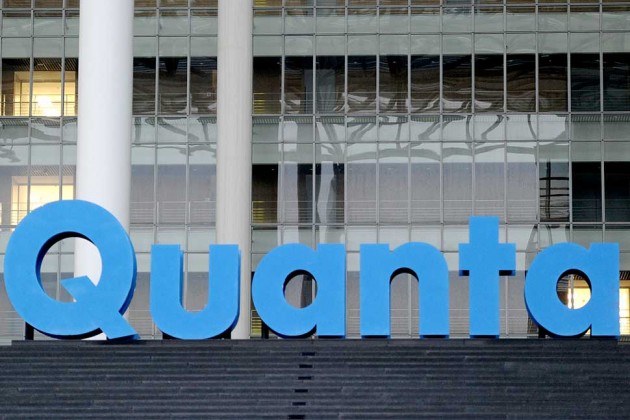 The risk of relying on another company to make your product is that at some point it will start selling its own version without you, at a discount. Now it's happening to Silicon Valley, as contract manufacturers that tech companies rely on to build high-end computing hardware sell servers directly to customers. In some cases, the manufacturers are making use of the Open Compute Project, a collection of relatively cheap, energy-efficient data center designs shared online by a group of companies, led by Facebook. This has been a boon for customers that need lots of inexpensive servers—such as Facebook—and bad for established IT brands such as Cisco Systems, Dell, and Hewlett-Packard.
The generic servers, which don't require expensive R&D or licensing fees, typically cost one-third to two-thirds less than those of the big brands. Customers have noticed: Leading generic manufacturers, including Taiwanese computer maker Quanta Computer and Fremont (Calif.)-based IT equipment specialist Synnex, made one in seven of the 8.8 million servers shipped globally last year, researcher IDC estimates. That's triple what they made three years earlier, when they mostly did contract work for the HPs and Dells of the world. Mike Yang, who runs Quanta's U.S. subsidiary, says his company saw demand for this type of data center equipment rise almost tenfold this year from 2013 but declined to elaborate.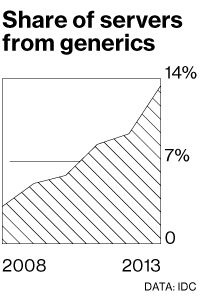 In much the awkward way that Samsung Electronics makes parts for iPhones, upstart companies and established server makers still rely heavily on each other. Almost 50 percent of Quanta's revenue comes from HP, data compiled by Bloomberg show. It's also selling hardware directly to Google and Amazon.com, which require massive collections of servers to keep their websites humming. (The Web companies declined to comment.)
To shift away from the contract business known as original design manufacturing (ODM), the generic guys began building customized servers for the big Internet companies, eventually broadening out to sell Open Compute designs to smaller companies as well. Steve Ichinaga, president of Synnex's open-design subsidiary, Hyve Solutions, says he's also winning over companies outside the tech business: "They see this gear and come to our events and want this same type of gear."
Companies that have started using generic hardware range from investment firm Fidelity to state-controlled telecom Swisscom to Riot Games, a Tencent subsidiary that runs the megahit mobile game League of Legends. (The companies declined to say which big brands they'd been using or still use in part.) "It's been really positive so far," says Keith Shinn, senior vice president of wholesale architecture for Fidelity, which bought generic servers from Quanta a year ago. Richard Branton, Merck's chief technology officer, says he's interested; so does James Cuff, assistant dean for research computing at Harvard. Neither would say whom they currently buy from. "It's something we're keeping our eye on," Cuff says. "At a certain point, it's all the same tin."
Industry leaders say they aren't scared. "There are always different vendors growing or contracting. Those that have focused on innovation will deliver better business value, and those that haven't focused on innovation will wither," says John Gromala, senior director of the HP servers division that deals with its biggest customers.
The established brands have for years promoted their extensive, 24-hour customer service as a major reason to pay a premium for hardware. Forrest Norrod, Dell's general manager of server platforms, says of companies such as Quanta and Synnex, "Their ability to fulfill the quality and full value chain that customers below hyperscale need will be very difficult," given that they haven't had to handle smaller buyers' needs before.
Merck's Branton says he'd be more attracted to a cheaper option if Quanta or Synnex could assure him they'd match a name-brand level of care. Jason Taylor, Facebook's director of infrastructure, argues that given the cost savings, companies can afford their own bug fixers. "I think that there's starting to be a movement of people adopting server solutions that are a tighter fit to the problem," Taylor says. "Overbuying hardware doesn't help any organization."
Before it's here, it's on the Bloomberg Terminal.
LEARN MORE