People's Daily Signals Hard Line on Hong Kong Demonstrators
By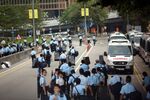 As protests continue in Hong Kong, China has sent a strong message that it has little interest in compromising on the future of the territory. A front-page commentary in the People's Daily, the Communist Party's official mouthpiece, ruled out demands to replace Hong Kong's widely reviled chief executive, C.Y. Leung, as well as to bring more democracy to a general election scheduled for 2017.
Calling the protests illegal, the commentary stated that the question of how to restore order in Hong Kong has become a matter of "widespread concern for all." It accused the demonstrators of "seriously assaulting Hong Kong's tradition of rule of law, disrupting Hong Kong's social order, and affecting the lives of the Hong Kong public."
The commentary went on to warn that Hong Kong could fall into "chaos" and accused "Occupy Central" of having "flagrantly violated the laws and regulations of Hong Kong, severely obstructed traffic and disrupted social order," according to a translation published in the New York Times. "These actions are in themselves a desecration of democracy and rule of law," it stated in keen dudgeon.
As for protester demands to replace the chief executive, the commentary made clear that this is very unlikely to happen. Declaring that the central government has "full confidence" in the chief executive, it said it is "extremely satisfied with his work" and will "unswervingly support" him.
Meanwhile, Beijing will "resolutely support the police force of the special administrative region in dealing with illegal activities according to the law," it continued. "Occupy Central, however, is not a form of communication, but confrontation. It will not force the central government to back down," said an article on the commentary published by the Xinhua News Agency.
A day earlier, China's foreign minister warned against foreign interference during a visit to Washington. "Hong Kong affairs are China's internal affairs and all countries should respect China's sovereignty," said Foreign Minister Wang Yi while meeting U.S. officials on Oct. 1, China's National Day, reported Xinhua.
Before it's here, it's on the Bloomberg Terminal.
LEARN MORE