The Bulletproof Classroom: Armored Whiteboards Defend Against School Shootings
Should every teacher have a portable armored whiteboard?
John Cloud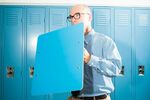 After the atrocity in Newtown, Conn., in December 2012, when 20-year-old Adam Lanza killed 20 six- and seven-year-olds and six adult staffers at Sandy Hook Elementary, legislators around the country grasped for ways to prevent another such disaster. Some proposed arming school guards; others moved to ban guns from being kept at school by anyone. Debates raged over spending on metal detectors, more surveillance, combat training for teachers, and blastproof locks on classroom doors. In the wake of every school shooting since the 1999 Columbine massacre, these discussions have been endless because the stakes are so high and the solutions so imperfect. Lock every door, and the gunman can still shoot through a window. Arm the principal with a gun, and the shooter might disarm her, kill her, and gain another weapon.
A businessman named George Tunis III read about Sandy Hook with horror. He has two kids—a 15-year-old girl and a 13-year-old boy—and couldn't imagine getting a call from their school that the worst had happened. Millions of parents have shared his fear, but Tunis is in a unique position to do something about it: He manufactures light armor designed to protect people from not only bullets, but also bombs.
His company, Hardwire, was one of the principal contractors armoring vehicles and buildings during the Iraq and Afghanistan wars. From a modest red-brick building hard upon the Pocomoke River on the Eastern Shore of Maryland, Tunis, ebullient and surprisingly easygoing for a man in the war business, shipped enough armor for 126 military vehicles a week during the mid-2000s. (He estimates Hardwire armored 5,000 vehicles in all.) If he could make light armor tough enough to protect service members from an improvised explosive device, surely he could make something teachers could use to protect kids from the next Adam Lanza.
Tunis came up with the idea of lining the handheld, portable whiteboards commonly used in schools with panels made from Dyneema, a polyethylene fiber strong enough to stop a shotgun blast from a foot away and light enough to wear all day. Emily Heinauer, director of special projects for Hardwire, says the company has sold its 20-by-18-inch whiteboards in all 50 states—some to school districts and some to individual teachers who find them online. In addition to the bulletproof whiteboards, Tunis makes a 10-by-13-inch clipboard weighing 1.3 pounds intended for kids to use if a gunman comes into the room. Hardwire recently sold 61 clipboards, which retail for $129, at half price to Worcester County, Md., where the company is based. Many of the first orders came from nearby clients—the University of Maryland Eastern Shore spent $60,000 on whiteboards last year. And after the Today show featured them on the 12th anniversary of Sept. 11, orders began pouring in from all over the country.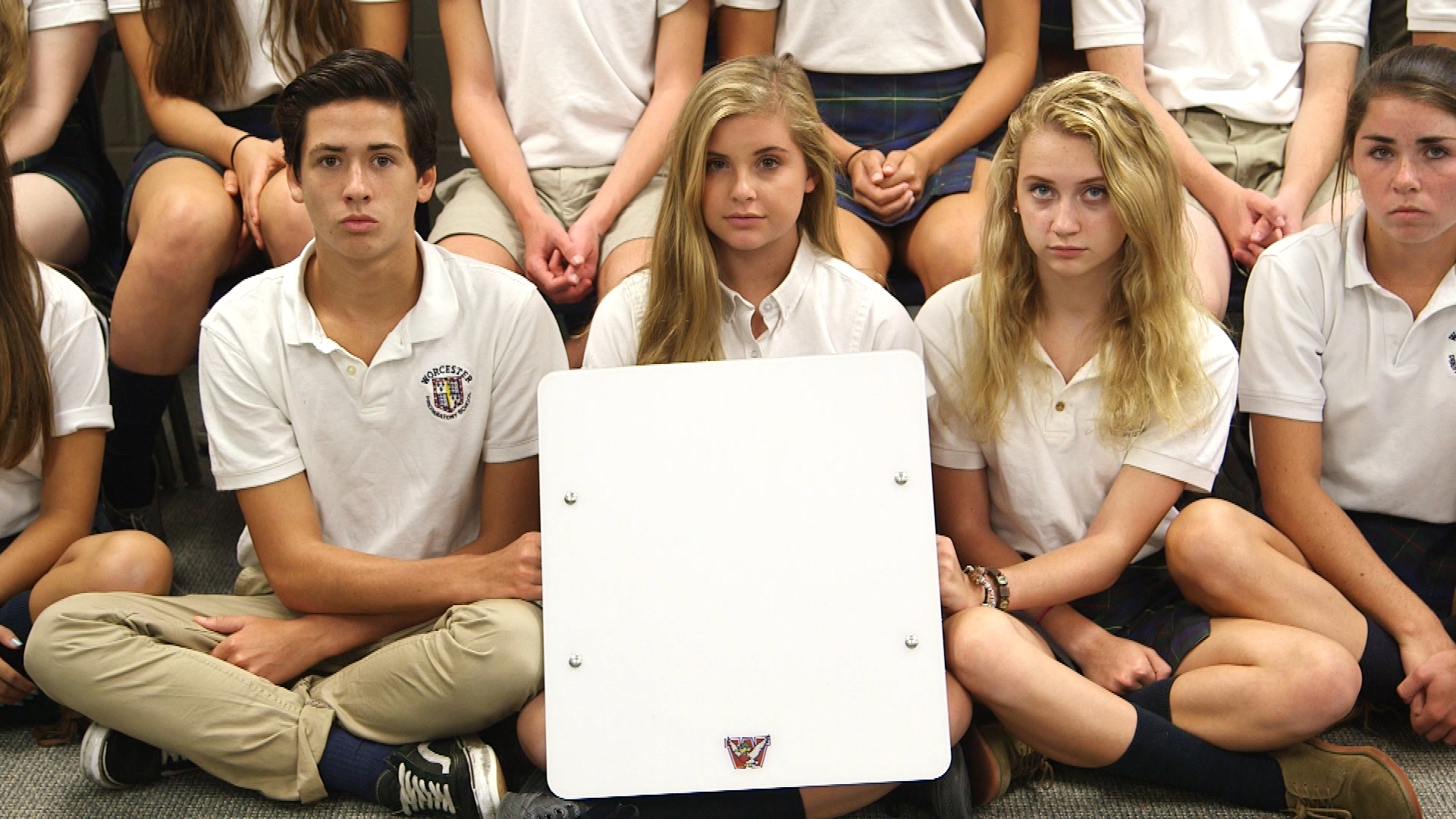 According to the Department of Education, the U.S. has a pool of more than $95 million in grants intended to help states develop emergency plans for schools. The money has helped spur a range of products that purport to help school districts defend themselves against mass shootings. Along with Hardwire, at least seven other companies are trying to win government money by armoring schools. ProTecht, based in Edmond, Okla., sells blankets that the company claims can "resist" bullets and projectiles thrown by tornadoes. BulletBlocker of Danvers, Mass., sells backpack armor, though many kids don't have quick access to their backpacks during class. Fighting Chance Solutions of Muscatine, Iowa, sells $65 sleeves that encase and disable the closing mechanisms at the top of doors in many public buildings. The sleeves make the doors virtually impossible to open. Strangest of all, Armour Wear, based in Miami, makes bulletproof underwear ($349 for three pairs). Chief Executive Officer Robert Scott says he got the idea after watching his son's peewee football team change their clothes after a game.
Such odd inspirations are bound to come up when fear rises and money is thrown at the problem. They also raise questions: If we aren't going to militarize our schools with armed guards and combat-trained teachers—the offensive solution—are we ready for antiballistic armor in every classroom, perhaps in every kid's backpack—a defensive solution, but one that still makes schools seem like war zones? Introducing military-grade equipment into schools could become a virtual invitation for sociopathic adolescents to show up with their weaponry and try to beat the system, like the next level of a first-person shooter video game. Whiteboards and clipboards may seem like small obstructions for determined killers like Lanza and so many others.
Tunis heatedly answers: "We have an incredible national asset here that we can put to work on an incredible national problem. And for me, one child, one police officer—if even one is saved, we have made a difference." He knows that when bullets start flying, perfection is impossible.
 
 
The contemporary age of school shootings arguably began on Feb. 19, 1997. Evan Ramsey, 16, was a junior at Bethel Regional High in Bethel, Alaska. Ramsey had endured a dreadful childhood: His father had been imprisoned; his mother drank a lot. In court, Ramsey said he'd been sexually abused at a foster home. He and at least two friends talked about his going to school to "scare everybody … and kill myself," as journalist Steve Fainaru later wrote in a three-part Boston Globe series about the Bethel killings. But one of Ramsey's friends, only 14, disagreed. He and another boy urged Ramsey to kill. "He said I'll become famous," Ramsey later told Fainaru. "He said I should live the fame."
A reluctant killer, Ramsey managed to slay the principal and a sophomore and wound two others, but he quickly surrendered his Mossberg 500 shotgun. He was convicted of first-degree murder and sentenced to 210 years in prison. Ramsey's two accomplices were charged with first-degree murder, but as juveniles. They ended up with far milder punishments.
Bethel is crucial to understanding the phenomena of school shootings because it was followed by dozens of incidents in which students seemed to learn from it. They planned their attacks more carefully and assured themselves they weren't afraid to die. Columbine is the most famous, but even after Columbine, schools had little idea how to protect themselves from boys with nothing to lose. Two counties away from Bethel, in Valdez, educators and law enforcement officials have been collecting ideas for years from cops, criminologists, policymakers, and engineers such as Tunis to come up with a comprehensive plan.
William Comer became Valdez's police chief in 2005. He has a goatee and a seemingly imperturbable manner. After high school in tiny Pateros, Wash., Comer worked in construction in Juneau and eventually in Valdez. In 1985 he went to the state trooper academy in Sitka. Afterward, he joined the Valdez police.
When Ramsey shot the four in Bethel, Comer and others on the force began wondering what they would do in the same situation. Even after Comer spoke with a couple of officers who'd been on the scene in Bethel, he had no good answers. "We had nothing in terms of training for years," he says. "The idea was, 'Just get [to the school] faster.' "
After Columbine, Comer and thousands of other cops went to Quantico, Va., for FBI training in how to stop gunmen. The prevailing strategy at the time was that if school officials heard gunfire—and it's important to understand that upstairs and 10 classes away, a gunshot can sound like some kid dropping his books—they were simply trained to "lock down" the classrooms and the whole school.
In classrooms, lockdown meant turning the lights off and asking kids to hide silently. If the teacher could lock the door, he would—although several have died trying to hold doors that the shooters blasted through. During the 2007 massacre at Virginia Tech, an engineering professor named Liviu Librescu, a 76-year-old Holocaust survivor, braced his entire body against the door and screamed for students to jump from the second-story windows. Ten did; because of the bushes and grass, only six were injured, none fatally. The gunman, Seung Hui Cho, shot his way through the door and through Librescu, who was posthumously awarded the Grand Cross of Romania, his native country. Only one of his students died. Cho killed 32 in all.
The Virginia Tech shooting made educators reconsider the lockdown response. It wasn't completely disregarded but became part of a larger group of strategies. The most widely respected standard of practice in school safety is the one developed by the Alice Training Institute in Medina, Ohio, which is privately held. Alice stands for "alert" others quickly; "lock down" your classrooms—with barricades including desks and bookcases or whatever is there; "inform" cops or the principal—or, really, anyone—where you think the shooter is; "counter" his actions by not hiding under desks but throwing books or cans or potted plants when he arrives; and, if you have the opportunity, "evacuate."

Alice is a radical departure from lockdown, since it asks students to defend themselves—and thereby puts some in harm's way. Critics argue that minors should never be asked to take such dangerous actions. Last year the National Rifle Association issued a report saying every U.S. school should have at least one armed and well-trained official on campus. But Comer and many other law enforcers say that such an approach would do little to reduce schools' vulnerability. Most of the guards will never use weapons during a live incident; they stand around for years with little to do; they're expensive and are the first target of any school shooter. Most school shooters come to kill and die. According to this line of thinking, it's almost impossible to deter an adolescent killer with access to automatic guns from killing at least one or two.
 
 
For Tunis, the answer is to keep the bullets from hitting their intended targets. In 1984, after studying mechanical engineering at the University of Delaware, he started his career at DuPont, which had spent most of the century making plastic products with polyethylene, the synthetic resin useful because it's tough and light. A few years after Tunis started at DuPont, Royal DSM, a Dutch company, developed Dyneema, a polyethylene fiber that's extremely strong—pull as hard as you can with your fingers, and you can't break a strand thinner than a piece of linguini. By weaving and then smashing enough of those fibers together, you can create lightweight armor that's virtually impenetrable. Tunis's company, Hardwire, created a machine called Thor, a 30-foot-tall pressurizer that can exert 25 million pounds of force; Tunis says it's the largest in the world.
According to USAspending.gov, a site managed by the federal government, the U.S. military has paid Hardwire almost $35 million for its shields since 2009—and countless more before that, when Hardwire earned most of its revenue by subcontracting with larger companies and with the Pentagon's research and development unit, the Defense Advanced Research Projects Agency. (Privately held, Hardwire won't release financial information.)
After Sandy Hook, Tunis thought more about how his armor could work in schools—and, of course, how to find new business. The military paid Hardwire almost $22 million for its vehicle armor in 2010; last year that figure was only $941,300, according to USAspending.gov. Thor is so efficient that Tunis needed to employ only 50 or so people at the height of the wars in Iraq and Afghanistan. Today, 34 work at Hardwire, which has shifted its focus to selling its battle-ready whiteboards to schools. The boards weigh just four pounds but can stop multiple rounds from virtually any handgun or shotgun.
The performance of the armor is extraordinary, but you can predict the first problem: cost. Staples sells 24-by-18-in. whiteboards for $55.19; Hardwire's 18-by-20-in. ones are $399. The 10.6-lb. whiteboards that can stop semiautomatic bullets from, say, an AR-15—the rifle used in the Aurora (Colo.) cinema shooting—cost $999. Hardwire says schools that buy its products get free training for teachers and students in how to deploy their armor most effectively. Tunis compares the whiteboards to the fire extinguishers required in every classroom—which, as he points out, also require training for every teacher. "So this is the same mentality," he says. "We take people to go from scared victims, to understand that they are going to be put in the position [in which] they have to become the first responder because trouble came and found them … and there was no way out. We can't provide an instant way out, but we can empower people."
Comer, the Valdez police chief, first reached out to Tunis in May 2013, when a loaded handgun was found in one of the bathrooms at Valdez's Gilson Middle School. Officer Aaron Baczuk happened to be at the school, which was put on lockdown immediately along with the elementary and high schools. No shot was fired. The police identified the boy who brought the gun to school, but didn't release his name. He was sentenced to juvenile probation.
In the days after the incident, Comer searched the Web and found Hardwire. Valdez subsequently bought Hardwire boards for all elementary and secondary school teachers in the city, as well as all administrators, some of whom have the model that can absorb semiautomatic rifle fire. Comer told me he was so impressed by the boards' performance on the police department's gun range that he urged the city to spend the money ($30,000 is not a small sum for a town of 4,000).
In August, I flew to Valdez to see what the city was getting. In preparation for the school year, Hardwire was training teachers, administrators, and even kitchen staff in how to use the armor. At training sessions at the elementary, middle, and high schools, Lieutenant Bart Hinkle and Officer Baczuk repeated, ad nauseam, the phrase, "There are no rules anymore." Run if you can; fight if you can; hide if you find a good spot; or sit under your desk in lockdown mode and die. "These are active killers, folks," Hinkle told a group of teachers at Gilson. "We don't care if you suffocate that guy to death."
One expert marksman in Valdez shot 10 rounds from two different handguns into one of the whiteboards. He also fired three buckshot rounds from a 12-gauge shotgun. Even though he was only 10 yards away and some bullets were shot into the same spot, no round got through.
Teachers who saw the demonstrations—whiteboards peppered with bullet holes on which you could still, sort of, make out the algebra equation—came away impressed. There were also some notes of skepticism: They know that some kids, especially the little ones, may be paralyzed by fear. After one presentation at Hutchens Elementary, I approached a teacher who seemed uneasy with the concept.
"I like a couple things about [the whiteboards]," said Sheri Beck, who has taught in elementary and high school classrooms for 20 years. "I like the idea that we have a tool now. And I really like that our police department was so forward-thinking in admitting this could happen here." She also likes that she can use the whiteboard to do multiplication and spelling lessons for groups of students.
But Beck acknowledged that her whiteboard wouldn't protect her from getting shot in the leg, keeping her from guiding kids to safety. She added that she's told her students that any of them can grab the board if she's incapacitated. It might save just that one student—but even one may justify the expense. On the day I met her, Beck was carrying a box of student clipboards from Staples, which could stop little more than a spitball. Valdez hasn't bought the Hardwire clipboards, but when I suggested it, she sighed. "If somebody's crazy, they're going to kill. But maybe this one whiteboard gives Lieutenant Hinkle one more minute to get here."
Finding a balance between the new types of protection and the wish for schools to feel open and welcome may never be fully resolved. At Valdez High—as well as the new $30 million Gilson Middle School and the older Hutchens Elementary—most classrooms have either a piece of glass on the door or a wide panel of glass next to the door. Hardwire sells, for $2,299, "peel-n-stick" door protectors; they can cover the interior windows, too. This has the effect of turning classrooms into citadels. Yet in the absence of better mental health care for troubled kids and tighter control of guns, schools will remain targets. Putting a bulletproof shield in every classroom will take some getting used to, but can you imagine a classroom without a fire extinguisher?
Back in Maryland, Tunis says his hope is that teachers trained and equipped to use his armor will feel enabled to charge at a shooter when he comes into a classroom. "You're going to lose some," he acknowledges. "But right now you have some teachers running at these guys completely bare. [And] adding more bullets to this equation is probably not the best statistical answer. A bullet is going to hurt someone—from friendly fire or bad-guy fire, it doesn't matter. The beauty of armor is that it subtracts bullets."
To see how bulletproof whiteboards are made, go to businessweek.com/14/Hardwire
Before it's here, it's on the Bloomberg Terminal.
LEARN MORE