Charlie Rose Talks to GoPro's Nick Woodman
The founder and CEO of GoPro discusses the path that led to the company's successful IPO this summer
By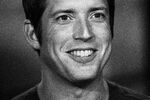 You've just released three camera models, and the stock market approved again.
The Hero4 Black is a significantly improved version of our bestseller. It's our flagship, the highest-performance GoPro cam ever made. It shoots 4K [ultrahigh-definition] video at 30 frames per second or 1080p video at 120 frames per second, which allows for incredible slow-motion effects. What makes 4K so interesting is it captures lifelike cinema-quality video. You can make a movie. In fact, the Hero3 Black won an Emmy.
How did the idea for a tough little video camera come to you?
My first business was an online game company. That shut down [about 12 years ago] when I was 26. … I was traumatized. I decided to hit the road and plan a five-month surf trip. I figured, "This is going to be the trip of a lifetime for me, and I want to document that." When I looked for a camera that would allow me to surf and video or photograph at the same time, there was nothing on the market. I decided to pull something together and invented what was the first wrist camera for sports.
When did you realize this could go way beyond just surfing?
I enrolled in a race car driving school, where you go for three days, and they wanted to rent me a video camera and charge me $100 for every half-hour. I thought, "That's crazy. I've got my wrist camera. I'll just go get that and strap it to the rollbar of this race car." Everybody in the school gathered around me and asked me where I got it. And I remember turning to the fellow that asked me, and I said, "Dude, I made that." And the footage was much better than any other camera at that time that you could put on a car. I realized we had to stop being just a wrist camera company.
Talk about how difficult it was to create the camera.
I got really lucky. I had an idea nobody else had in a seemingly very developed industry of digital cameras. So I had this grace period to slowly develop this concept. At the time, I was scared. I thought that at any moment I was going to see the competition steamrolling me. But nobody was paying attention. In the early years, I would say GoPro's products were not that impressive. But it's all there was. Then, along the way, we were able to attract better and better engineering talent.
Your passions, like surfing, played a big role in your success.
I'm a big believer that when you're pursuing your passions, your best ideas come to you. Your passions are a bit like your fingerprints: Everybody has them; everybody's are different. One's passions may just be a guidebook to one's life.
Where does passion take you next?
I now have a new passion in life, my growing family. I've got three little boys. One of my favorite ways to use a GoPro is taking it with us to the diner on Saturday mornings to document pancake breakfasts. But the challenge is, my family is trapped on stacks of SD cards on my desk. This has become a big inspiration: How do we help our customers manage all this content—take 30 minutes captured at the park or on the mountain, compress it into the one or two minutes other people actually want to watch, then share it? That's really the next phase for GoPro.
Can we expect to see GoPro stores in the future?
We obviously have more and more interesting things that we could put in stores. But the truth is that we've got so many great retail partners who are interested in giving GoPro more and more floor space within their stores. With Best Buy, we're in the process of moving from 4 feet to 12 feet of linear space within their stores. That opportunity is a bird in hand right now.
Before it's here, it's on the Bloomberg Terminal.
LEARN MORE