Emerging Stocks Pummeled as Weak Yen Boosts Japan: Chart of Day
Zahra Hankir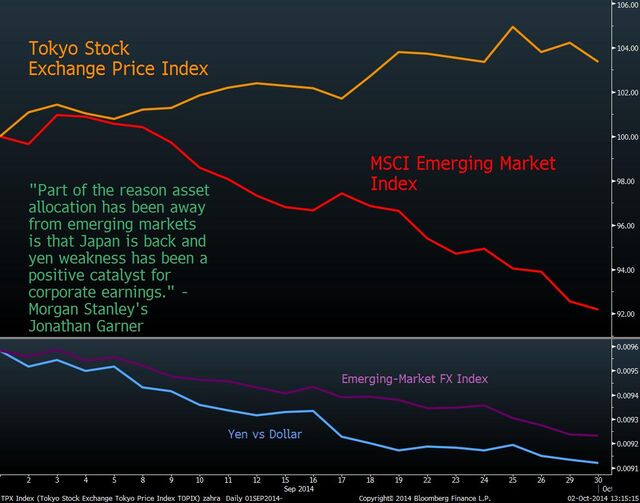 The yen's slide to a six-year low is amplifying a rout in emerging-market stocks as investors shift their focus to Japanese companies with earnings in dollars, according to Morgan Stanley.
The CHART OF THE DAY shows the MSCI Emerging Market Index tumbled 7.6 percent in September, the most since May 2012, led by China and Hong Kong. That compares with a 3.8 percent drop for the Topix Index in the period. The yen depreciated 5.1 percent versus the dollar to the weakest level since August 2008 last month, while a gauge tracking developing-nation currencies retreated 3.8 percent.
"Asset allocation away from emerging markets was in part because Japan was back and that yen weakness is a positive catalyst," Jonathan Garner, Hong Kong-based head of Asia and emerging-market strategy at Morgan Stanley, said by phone on Sept. 25. "We don't have a large export-industrial dollar earnings sector for EM, while Japan's corporate-sector earnings responded positively to yen weakness."
Japan's exporters are benefiting from a weaker currency, which boosts overseas income when repatriated, while developing-nation assets have come under pressure as the prospect for higher Federal Reserve interest rates dents demand for riskier assets. Toyota Motor Corp., the world's biggest carmaker by market value which derives most of its revenue from the U.S., rallied 9 percent last month.
Net inflows to U.S. exchange-traded funds that invest in emerging-markets tumbled 82 percent to $977.9 million in September, led by a 90 percent decline to China and Hong Kong, data compiled by Bloomberg show.
The Topix Index lost 2.9 percent yesterday, the most since March, after the yen recovered some of its losses against the dollar this week.
Before it's here, it's on the Bloomberg Terminal.
LEARN MORE