China's Lagging West Suffers From Cheap Coal
by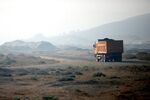 The woes of China's resource industries are growing as fast as excess inventories keep building up. And the multiyear slump in commodity prices has been particularly unkind to China's west, a region that has long lagged the rest of the country in incomes and economic output.
Of course, lower commodity prices are a good thing for most businesses and individuals. Cheap coal is particularly important in a country that is the world's largest consumer of coal (and No. 2 when it comes to oil). But that's hardly a comfort for China's six provinces that rely on mining for more than a fifth of their gross industrial output, as noted in a new report by China economic consultancy GavekalDragonomics in Beijing. Mining amounts to more than 10 percent of gross industrial output in another three provinces, and China is the world's largest coal producer.
Those feeling the pain include the five Western provinces of Inner Mongolia, Shanxi, Shaanxi, Qinghai, and the Muslim region of Xinjiang, all big producers of coal and rich in oil and gas, which together account for more than 20 percent of each of their industrial outputs. The economy of the northeastern province of Heilongjiang, a major oil producer that is also reliant on resources for more than 20 percent of output, expanded only 4.8 percent in the first half of this year, the slowest pace among China's provinces.
Rounding out those adversely affected were Ningxia, Gansu, and Guizhou, all in the west. Each of them relies on resource revenue for 11 percent to 18 percent of their industrial output, writes Andrew Batson, China research director at GavekalDragonomics.
A commodity slump usually has regional effects: Lower energy prices aren't good news for North Dakota, Wyoming, and Texas, for example. But the overall level of pain is worse for China, where mining makes up more than 5 percent of national GDP, twice its level in the U.S. Resource dependence is usually accompanied by other economic problems, as the report points out, adding to the stress.
"Energy-producing provinces have much more imbalanced economies than the rest of the country, and their problems of capital misallocation look more serious," writes Batson. The average investment-to-GDP ratio in the big six mining provinces had increased to a high 69 percent in 2012, he notes, up from 40 percent a decade earlier.
While falling energy prices may be good for China as a whole, they are creating significant regional problems for the country, Batson points out. Although the six provinces together account for only 14 percent of national GDP, declining energy prices are helping widen "the disparity between inland provinces and the richer and more globalized coast, and raising the risk of regional financial stress as growth slows," he writes.
Before it's here, it's on the Bloomberg Terminal.
LEARN MORE