'Bummer Environment' for Democrats, Cook Says
Analyst likes the Republicans' odds for taking the Senate.
By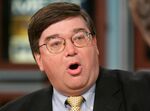 Flawed candidates and problems with female and Hispanic voters plagued Republicans in the 2012 elections and loom again as challenges for 2016.  The good news for the GOP: those weaknesses don't matter so much for this year's midterm elections,  and Republicans may win a Senate majority and probably will augment their House majority.