politics
'Bummer Environment' for Democrats, Cook Says
Analyst likes the Republicans' odds for taking the Senate.
By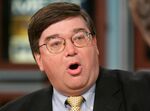 Flawed candidates and problems with female and Hispanic voters plagued Republicans in the 2012 elections and loom again as challenges for 2016.  The good news for the GOP: those weaknesses don't matter so much for this year's midterm elections,  and Republicans may win a Senate majority and probably will augment their House majority.
"They just don't seem to be the deal-breakers that they were in 2012 and possibly could be in 2016," political analyst Charlie Cook said at an election briefing.  President Barack Obama's mediocre approval ratings, stuck in the low 40s, and a very favorable Senate map may deliver the party the needed net gain of six seats. Republicans have about a 60 percent chance of winning a majority, Cook said.
"I'm going to use a technical political science term here: this is a bummer environment for Democrats," Cook said at the briefing, which also included Republican and Democratic polling experts Neil Newhouse and Stan Greenberg. 
Still, Newhouse urged his party to be cautious, and downplayed surveys showing his party's voters are more enthusiastic than Democrats. He saw the same thing in 2012, when he worked for Republican presidential nominee Mitt Romney's losing campaign. "An unenthusiastic vote counts just as much as an enthusiastic vote," he said.
Democrats are trying to keep Senate seats in six states that Obama lost by at least 13.7 percentage points in 2012, when he was more popular than he is today.

Three of them — Montana, West Virginia and South Dakota — are "gimme putts" for Republicans, Cook said. Democratic incumbents in Arkansas, Alaska and Louisiana account for the other three anti-Obama states.
If any of those three incumbents survive, then Republicans would need to pick up at least one Democratic-held seat in a five-state bloc of swing states that includes Colorado and Iowa, which "look pretty decent for Republicans," Cook said. Democrats have small but stable leads in North Carolina, Michigan and New Hampshire, he said.
Republicans are the defending party in three states with competitive Senate races — Georgia, Kansas and Kentucky. The toughest hold for Republicans is Kansas, where incumbent Pat Roberts lags in his race against independent businessman Greg Orman, who hasn't said which party he would caucus with for organizational purposes. Democrat Chad Taylor's withdrawal last month prompted lawsuits.
"This is like the race from Oz. It's just so damn weird," Cook said.
Newhouse and Greenberg said that control of the Senate was too close to call.
Greenberg said that Republicans generally and House Republicans specifically have a poor public image, and they're making a mistake focusing so much on opposition to President Barack Obama's health-care law.  Obamacare is "the weakest attack that they have" and the bloc of voters vigorously opposed to the law is "not big enough to decide elections," he added.
While Obama's poor approval ratings make the Senate elections an "incredibly difficult climb" for Democratic candidates,  November 4 is "a state by state election" with only a handful of states in play, Newhouse said. Democrats are spending tens of millions of dollars on the ground game to turn out voters in the Senate elections.
"This is what I think gives Democrats a little bit of an advantage, because they can focus their resources on these minimal number of states," Newhouse said. 
Before it's here, it's on the Bloomberg Terminal.
LEARN MORE