Bulgarian Ex-PM Poised to Return After Corpbank Failure
Elizabeth Konstantinova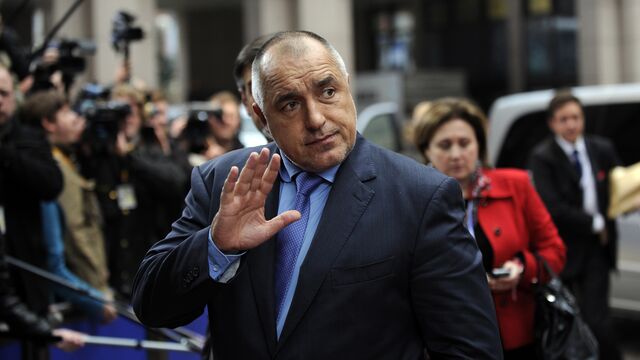 Bulgarian ex-Prime Minister Boyko Borissov is set to retake the reins of government he lost 18 months ago, vowing to avert a banking crisis and strengthen the economy of the European Union's poorest country.
Borissov's Gerb party, ousted from power by anti-austerity protests in 2013, has 37.2 percent support before the Oct. 5 early election, which would give it 98 of the 240 seats in parliament, according to a Sept. 19-25 Sova Harris survey. The Socialist party is at 25 percent.
The nation of 7.5 million people is struggling to boost growth and curb corruption as four government changes perpetuate political turmoil and the European Commission keeps up pressure for institutional reforms. The snap vote was called after the Socialists lost power following the June seizure of Corporate Commercial Bank AD, the nation's fourth-largest lender.
"Gerb will come out of the elections as the leading party, but most likely it will need a coalition partner to form a government," said Daniel Smilov, an analyst at the Center for Liberal Strategies in Sofia. "If it is the Reformers' Bloc, the potential for modern policies is much higher."
The Reformers' Bloc is one of four parties that would pass the 4 percent threshold needed to enter parliament, aside from Gerb and the Socialists, according to the Sova Harris poll of 1,000 people, published Sept. 30, which didn't give a margin of error.
Rising Yields
The yield on sovereign euro-denominated bonds maturing in September 2024 rose 2 basis points, or 0.02 percentage point, to a six-week high of 2.95 percent at 5:23 p.m. in Sofia. The cost of insuring the country's debt against non-payment for five years using credit-default swaps were unchanged at 134, according to data compiled by Bloomberg.
The coalition cabinet led by the Socialists resigned in July after a year in power over the loss of parliamentary support and a run on Corporate Commercial, known as Corpbank. The central bank placed the lender under supervision on June 20, freezing its assets and making funds unavailable to depositors.
The collapse, brought on by a political feud, raised the specter of a 1997 banking crisis that wiped out the savings for millions of Bulgarians, who accused the authorities of rampant corruption and cronyism.
Reforms Needed
"Bulgaria needs a strong political government to carry out long-delayed radical reforms in the energy industry, health care, education, pension system," Interim Prime Minister Georgi Bliznashki told reporters in Sofia on Sept. 30. "Bulgaria can't continue with political simulation and catering to corporate interests."
The European Bank for Reconstruction and Development last month cut its forecast for this year's economic growth to 1.5 percent from 1.9 percent. A budget revision plan envisages widening this year's deficit to 4 percent of gross domestic product from 1.8 percent, exceeding the EU limit of 3 percent.
If elected, Borissov would "make a huge effort, including compromises, to form a stable government," he said in a Sept. 26 interview in Sofia. He also called a coalition with the Reformers' Bloc the "perfect picture."
The interim cabinet's budget revision, to be submitted to the next parliament for approval, would allow the government to raise 4.5 billion lev ($2.9 billion) of new debt, bringing the debt level to 28.4 percent of output from 23 percent in August.
Flood Recovery
The revision is needed to repay Corpbank's depositors and also covers cost of flood recovery and gaps in the energy industry, as well as the health-care and pension systems, Bliznashki said.
A 10 percent increase of electricity prices introduced from Oct. 1 by the interim cabinet, which has links to Gerb, has shifted some voter support to small parties, Mira Radeva, head of the Institute for Research and Marketing, said in an interview with Nova television station today.
Gerb and the Reformers' Bloc may not win enough votes to form a cabinet and might have to seek a broader coalition, she said.
Before it's here, it's on the Bloomberg Terminal.
LEARN MORE