Boeing to Crank Out Even More of Its Top-Selling 737
by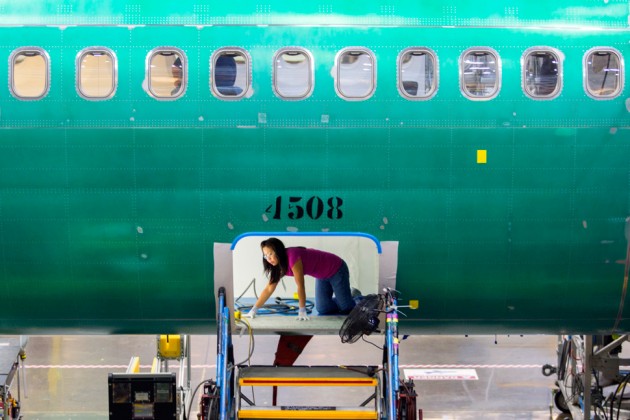 Spurred by customer demand, Boeing aims to produce 52 of its 737 medium-range airplanes per month in 2018. The latest increase, announced on Thursday, was widely expected, as Boeing executives have said in recent months that customers were urging a higher production rate for the 737, which comes in three variations and competes with Airbus's popular A320 family for jets that seat 150 to 190 people and can fly more than 3,200 miles.
Boeing has unfilled orders for more than 4,000 737s, while Airbus has a backlog of more than 4,700 for the A320 family—a testament to the rapid clip at which airlines are replacing older, less fuel-efficient models and upstart carriers from Asia to Europe are expanding their flights. Over the next two decades, Boeing predicts that airlines and aircraft-leasing firms will want about 25,000 single-aisle airplanes, worth roughly $2.56 trillion at list prices.
"For over a decade we have seen resilient demand for the 737, and a rate increase to 52 per month reflects the appetite for airplanes like the 737 MAX and Next-Generation 737," Randy Tinseth, vice president for marketing at Boeing Commercial Airplanes, said in a news release.
The 737 program represents about 75 percent of Boeing's commercial aircraft business, and Boeing's chief financial officer, Greg Smith, said in August that customers had been pressing for a higher rate to help reduce waiting times for the aircraft. And, of course, turning more 737s out of the company's Renton (Wash.) assembly plant is also one big step toward higher profits, since most of the money for a new airplane is paid upon delivery. Of the 737′s backlog, about 2,200 orders are for the new-generation 737 MAX that Boeing is developing to replace the current 737 family. Southwest Airlines is slated to get the first of those new aircraft in 2017.
One potential snag in the plans could be unhappy workers, with two of the largest Boeing unions displeased about the company's recent aggressive moves to curb costs. Last year, Boeing threatened to move work for its new jumbo jet, the 777X, out of the Puget Sound region if the International Association of Machinists failed to adopt new contract terms. More recently, it's been pushing engineering work from the area, angering the Society of Professional Engineering Employees. In a recent blog post, Teal Group aerospace analyst Richard Aboulafia described worker morale and labor-management relations as a "toxic labor relations Superfund cleanup site."
Boeing spokesman Doug Alder says the company's contract with the Machinists runs through 2024 and that "the 737 rate increase recognizes the incredible efforts by Boeing employees who've been instrumental in our ability to continue going up in rate—and getting airplanes into the hands of our customers as soon as possible."
Before it's here, it's on the Bloomberg Terminal.
LEARN MORE