The Jacksonville Jaguars Stink. That Won't Stop the Party in the Stands
The Jacksonville Jaguars stink. So to get people to games, the owner has turned the stadium into a Vegas-style club
by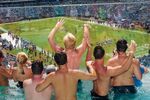 It's 94 degrees on a Thursday afternoon in August, and DJ Kid Nemesis is spinning house music while women in Burning Man-esque butterfly outfits dance on a deck above his booth. Go-go dancers in boots, fishnets, and football jerseys gyrate on stages near a swimming pool, where a bunch of shirtless, tattooed guys pay $160 for a bucketful of Patrón Silver tequila and mixers. Then the music stops, and they all face the end zone, hands over hearts, for the National Anthem. The least popular team in the NFL, the Jacksonville Jaguars, runs onto the field to take on the Atlanta Falcons in a preseason game at EverBank Field. For once, the fans cheer loudly.
Twenty years ago it seemed like a good idea to give Jacksonville, Fla., a college football-loving city, an NFL franchise. But the military town never became a major metropolis worthy of a pro team: Half the residents aren't even Floridians, so most people are loyal to other franchises. A 2012 ESPN poll showed that only 0.4 percent of NFL fans said the Jaguars were their favorite team, by far the lowest figure in the league. The 76,877-seat EverBank Field, built in 1995 for $134 million to accommodate a packed Gator Bowl, sat half-empty for Jaguar games. The NFL blacked out home games on local TV because they didn't sell out. The team threw a tarp over almost 10,000 seats. It didn't help.
"This is like hand-to-hand combat every single day," says Jaguars team President Mark Lamping, sitting in his tidy office. Two screens display graphs tracking progress in sales. One is illustrated with six faces, five in stages of relative ease, and one—yesterday's single-season ticket sales—that looks red, sad, and angry. Over the past two years, Lamping has implemented myriad strategies to get butts into those empty chairs. Fans can bring their own snacks. Little kids come free. There's a food truck alley in the parking lot and an area with bouncy-house slides and a live band. He's putting in Wi-Fi so people can check their fantasy leagues or post selfies on social media, to be picked up and displayed on the stadium video boards.
Propped up in the corner of his office are architectural sketches of plans for the 40 empty acres across the street; they include housing, bars, restaurants, and an amphitheater. "We've just scratched the surface," Lamping says. "We want to be the most distinctive franchise in the league."

Lamping, previously chief executive officer of the New Meadowlands Stadium, was hired by the very first nonwhite NFL owner, Shad Khan, a 64-year-old practicing Muslim who bought the Jaguars in 2012. At 16, Khan came from Pakistan to study engineering at the University of Illinois at Urbana-Champaign with only $500. He washed dishes to pay his way through school and went on to become a billionaire by starting a company that makes parts for more than two-thirds of the cars and trucks sold in the U.S.
Like any sane businessman, Khan didn't want the Jaguars. He did, desperately, want to own an NFL team. He was within 24 hours of landing the St. Louis Rams in 2010 when a minority shareholder exercised his right to match Khan's bid. Two years later, Khan paid $760 million to take the Jaguars off the hands of Wayne Weaver, who founded the shoe company Nine West.
Khan then persuaded the city, which owns the stadium, to pay for two-thirds of a $63 million renovation for this season. A flamboyant figure with long, wavy hair and a handlebar mustache—somewhere between Salvador Dali and Ron Jeremy—Khan is beloved in Jacksonville. He's the rare owner of a losing team who still gets a standing ovation from the crowd. His team's annual revenue is $263 million, according to Forbes data, below the league average of $299 million.

Lamping and Khan's newest scheme to attract fans is the pool area I'm sitting in today. They installed it this year, in place of those depressing tarp-covered seats. "Ever since Khan came in, it pumped the party up," says Carrie Hanson, who was a cheerleader for the Jaguars for four years and won today's preseason poolside cabana tickets on Facebook. She and four female friends get in the water alongside a 10-year-old girl, whose dad, Alan McElroy, had season tickets for 15 years before giving them up a few years ago. (It turns out the only people who want to get into a pool in front of thousands of people are kids and former cheerleaders.) Cocktail waitresses outsourced from the Clevelander Hotel in South Beach deliver endless supplies of wine, Bud Light, shrimp, sliders, hot dogs, and cupcakes to the poolside clients, whose corporate employers paid $12,500 for blocks of 50 tickets. There are also new seats right on the sidelines ($350), as well as a group of club tables ($375 per ticket), where couples can sit and eat a civilized dinner while watching the game, as if they're at the Hollywood Bowl. Regular tickets still cost as little as $30, compared with $110 for the cheapest seat at a New York Giants home game.
Despite the good poolside view, McElroy says he's watched most of tonight's game on the giant screens. The Jaguars have the biggest and most impressive video-board system in the world: a 60-by-362-foot high-definition LED screen at either end of the field. The Jaguars essentially started their own TV studio just to broadcast to the stadium. There's a network-size control room with about 20 headphoned engineers working the panels. During breaks they cut to Game Day Live, where former Jaguars running back Fred Taylor and Orlando sportscaster Christian Buey provide analysis live in their version of ESPN's College GameDay. The boards also show the NFL Network's RedZone, which covers all the day's matchups, so Jacksonville citizens can follow teams from the cities they grew up in or track their fantasy league players. They can also check in on tablets in the Barcalounger-equipped Fan Zone, while their kids play Madden Games on Xboxes and eat at the ice cream sundae bar.



The screens show the party, too. Other stadiums have to encourage fans to kiss for the cameras. At EverBank, sideline reporter (and former contestant on Fox reality show Paradise Hotel) Kavita Channe reports live on the hot people at the pool party dancing to the hot DJ. More than half of Jaguar fans are women, and many display their support by wearing animal-print clothing and jaguar-ears headbands. To dry off, fans congregate at the Bud Light Party Zone, essentially a packed sports bar where people hit on each other while kind of watching the game. The stadium looks two-thirds empty at times, but that's partly because so many ticket holders are anywhere but in their seats.
Toward the end of the first quarter, the screen flashes to Hanson and her friends in the pool. She turns around and shakes her behind at the camera, and the crowd yells "Ohhh" in disapproval. The director quickly switches away, but by the fourth quarter, when the camera returns to the pool and Hanson repeats the move, the crowd remains silent. They're slowly coming around. Not only are ticket sales up, according to Lamping, but these new seating options aren't cannibalizing existing buyers.
By the end of the game, a shirtless male lifeguard is using his break to sit in the pool and watch with Hanson and her friends. The party's scheduled to go on for two hours after the game, which the Jaguars lose to the Falcons, 24-14. It's unclear if the people dancing upstairs to beats by DJ Kid Nemesis even know the game is over.
Before it's here, it's on the Bloomberg Terminal.
LEARN MORE