Poll: Americans Open to Ground Troops Against ISIS
As far as the current strategy goes, people aren't optimistic.
By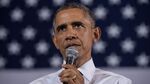 A majority of Americans would be open to sending troops to fight against ISIS if airstrikes aren't enough, according to a new Fox News poll. The poll found that while 78 percent of voters approve of U.S. airstrikes against the Islamic State, 52 percent would favor a boots on the ground approach if the current strategy doesn't work.