7-Eleven Shows Its Health-Food Side in Los Angeles
by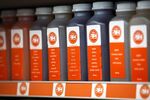 Soda-and-beef-jerky wonderland 7-Eleven has already made inroads with fresh food, introducing more salads, sandwiches, and fresh fruits. Now the Dallas-based convenience store is seeing how far it can push healthy eating: More than 100 locations in Los Angeles are getting a new line of cold-pressed juices, sandwiches, and salads the chain developed with P90X creator and superfit guy Tony Horton.
Are all-natural sandwiches the new hot dogs? Juices the new Slurpees? "Not yet," says 7-Eleven spokeswoman Margaret Chabris. "We sell more coffee than just about anything else. Coffee, Big Gulp, Slurpee, what's rolling on our grill—they're all still very, very popular." The chain did, after all, also recently introduce a diet-killing melted-cheese snack encrusted with Nacho Cheese Doritos.

The new juices, which bear a Tony Horton Kitchen label and cost $4.99 for a 16-ounce bottle, include ingredients such as celery, beet, ginger, parsley, spinach, kale, lemon, coconut water, lime, mint, wheatgrass, and clover sprouts.
The foods, ranging from $4.75 to $6.50, include sandwiches like "grilled chicken with blueberry mustard on a whole grain sub" and "roasted turkey breast wrap with chipotle black bean hummus." There's also a "spicy quinoa salad with chimichurri dressing." The line is made at the same commissary, Fresh Grill of Santa Ana, Calif., that prepares other fresh foods for 7-Eleven stores in the area.
Even as 7-Eleven tries to diversify its offerings with the trend toward healthier eating, the Slurpee isn't likely to disappear soon. "Slurpee sales are very good," Chabris says. In fact, she adds, customer requests for healthier foods via 7-Eleven's smartphone app were second to new Slurpee suggestions. Still, that does mean healthy eating remains somewhat top-of-mind even when customers head to 7-Eleven.
Before it's here, it's on the Bloomberg Terminal.
LEARN MORE