Weed War Ads: Sneaky Drug Dealers vs. Compassionate Doctors
An all-out ad war has erupted.
By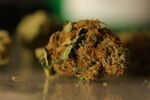 Depending on who you listen to, Florida's proposed constitutional amendment that would legalize medical marijuana is either a deceptive ploy that gives protections to felons and drug dealers, or a tightly controlled humanitarian means of easing patient suffering. Polls show support for Amendment 2 at 53 percent, but that number has been falling, and an all-out ad war has erupted on the state's television screens. 
Check out the latest ad against Amendment 2 from Drug Free Florida, a group that has raised $3.22 million to try and keep doctors from being able to prescribe marijuana to patients. The message of the spot is very straightforward, reducing medical marijuana providers to criminal drug dealers.
Key line: "They don't call it the drug dealer protection act, but they should."
Next, here's United for Care's own spot. The group has raised $6.15 million to help pass Amendment 2, the Orlando Sentinel reported. Notable here is the ad's libertarian slant.
Key line: "23 states now keep government and politicians out of the doctor-patient relationship."