U.K.'s Hill Faces Second Grilling in Bid for Europe Post
Jim Brunsden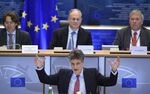 Jonathan Hill, the U.K.'s nominee to the next European Commission, faces a second round of grilling next week from European Parliament lawmakers in his bid to become Europe's next financial-services chief.
Hill, 54, failed to secure instant backing from the Parliament's economic and monetary affairs committee after a three-hour hearing in which he was probed on subjects from too-big-to-fail banks to Britain's relationship with the European Union. Instead, legislators said they would seek further clarifications of his plans.
"Hill left a puzzled European Parliament behind," Sven Giegold, a German lawmaker in the assembly's Green group, said in an e-mailed statement. "Many unanswered questions remained; he did not present own ideas and hid behind vague replies."
The committee's backing is the principal hurdle to Hill's taking on the portfolio of "financial stability, financial services and capital markets union" in the next European Commission, which is set to take office on Nov. 1.
The EU Parliament can veto the team proposed by Jean-Claude Juncker, a former prime minister of Luxembourg who is set to lead the next commission, and the assembly has a track record of using a veto threat to weed out nominees it doesn't like.
Hill "will be invited to attend an exchange of views" with lawmakers, Roberto Gualtieri, the committee's chairman, told reporters today.
'Concrete Answers'
Legislators are seeking "better clarification, more concrete answers on specific issues that have been raised during the hearing," he said.
These include details of a "capital markets union" proposed by Juncker, and Hill's plans for regulating financial benchmarks, he said, adding that he will set this out in a letter to Hill.
The second hearing will take place on Oct. 6 or Oct. 7, two EU officials said. It will be "at the start of next week," Gualtieri said.
While it is rare for a commissioner candidate to be called back for further questioning, the move is not unprecedented. Neelie Kroes, the commissioner responsible for the "digital agenda" in the current European Commission, went through two hearings before securing the post.
In 2004, second hearings were held for three commissioner positions before the Parliament approved a reshuffled team for Jose Barroso's first term as president of the commission, which acts as the EU's executive arm.
Draft Laws
The Brussels-based commission proposes draft laws while also policing adherence to those already in force. It is led by a college made up of one representative of each EU nation. Candidate commissioners hold hearings with relevant parliament committees before they take office.
Miguel Arias Canete, candidate to be the EU's next energy and climate commissioner, at his parliament hearing yesterday wasn't able to convince the Socialists and Democrats, according to Matthias Groote, the group's coordinator in the environment committee. An opinion by the assembly's legal affairs committee is needed to assess a potential conflict of interest linked to the involvement of Canete's brother-in-law in the oil industry, Groote said in a statement.
Their Stance
The political-group coordinators of the environment and industry committees were scheduled to meet at 11:30 a.m. in Brussels to decide on their stance on Canete. Peter Liese, a member of the European People's Party to which Canete belongs, said yesterday that he was "hopeful" that the candidacy will win backing from the panels.
Hill faced a panorama of different questions in his hearing, ranging from his business arrangements to his views on joint debt issuance by euro-area nations. In terms of financial-services policy, Hill said he would push ahead with implementing laws agreed on since the 2008 crisis.
He will also "take forward work" on a planned bank structure law, and rules for money market funds, Hill said.
"We are all agreed that there can be no going back to pre-crisis days, no going back to the wild risk-taking with its terrible toll," he said.
Hill also faced questions on whether his role as a founder of Quiller Consultants, a lobbying company which includes financial institutions among its clients, had left him facing conflicts of interests.
"I am not sitting here as a representative of the City of London," Hill said, adding that he had sold his shares in the company.
Juncker's commission is set to serve a five-year term.
Before it's here, it's on the Bloomberg Terminal.
LEARN MORE