Singapore Home Prices Fall for Fourth Straight Quarter on Curbs
Pooja Thakur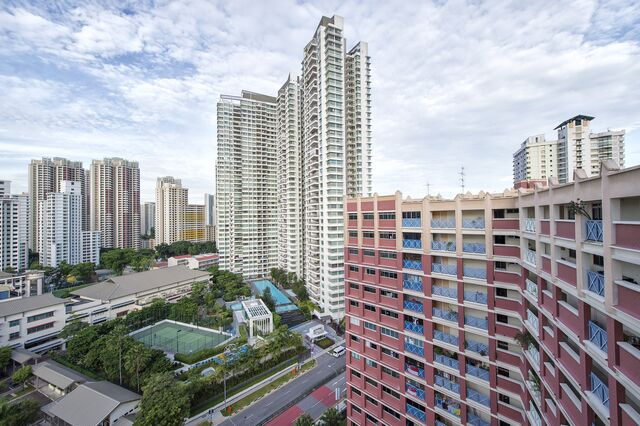 Singapore's home prices declined for a fourth consecutive quarter, the longest losing streak in five years, as tighter mortgage measures cooled demand in Asia's second-most expensive housing market.
An index tracking private residential prices fell 0.6 percent to 208.1 points in the three months ended Sept. 30, following a 1 percent decline in the previous three-month period, according to preliminary data released by the Urban Redevelopment Authority today. The decline matched the losing streak ended June 2009, the data showed.
The government's five-year campaign to rein in property values has led to declines in prices and demand. Home sales fell to the lowest level this year in August as developers offered fewer projects amid cooling demand from the long-standing property curbs, URA data in September showed.
"The curbs are having an impact on prices," said Donald Han, managing director of Chesterton Singapore Pte, a real estate consulting company, adding that the property measures are not likely to be relaxed this year.
Apartment prices fell 0.9 percent in prime districts in the third quarter after sliding 1.5 percent in the previous three months, the URA data showed. Those in the suburbs dropped 0.2 percent, compared with a 0.9 percent decline in the previous quarter. Prices in areas near prime districts slipped 0.1 percent, compared with a 0.4 percent decrease in the previous quarter, the data showed.
Property Measures
Singapore has been seeking to combat property speculation since 2009 as record home prices amid low interest rates raised concerns of a housing bubble.
The government unveiled new rules in June 2013 for how financial institutions grant property loans to individuals. Under the new loan framework, mortgages shouldn't push a borrower's total debt-servicing ratio above 60 percent and those that do will be considered imprudent.
Mortgage loan growth at 7 percent in July was the slowest pace since June 2007, data compiled by Bloomberg based on MAS figures showed.
Developers sold 432 units in August, according to the September URA data. That's the fewest since December, when 259 units were sold.
Before it's here, it's on the Bloomberg Terminal.
LEARN MORE