Secret Service Chief Pierson Resigns Amid Security Gaps
Del Quentin Wilber and Angela Greiling Keane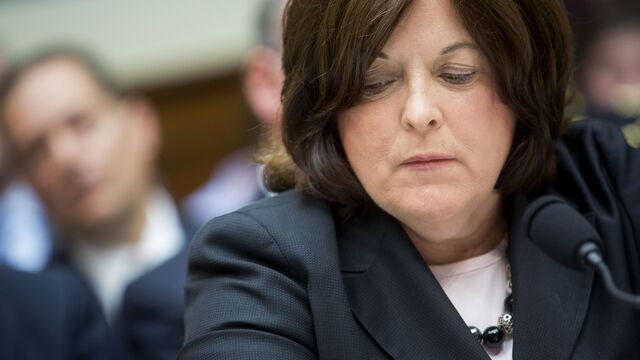 Embattled U.S. Secret Service Director Julia Pierson, the first woman to lead the agency in charge of protecting the president, resigned amid criticism over a series of security lapses.
Pierson stepped down just 18 months after President Barack Obama selected her to take over a law enforcement agency that already had been tarnished by misconduct by agents.
"I think it's in the best interest of the Secret Service and the American public if I step down," Pierson said in an interview with Bloomberg News after her resignation was announced by the Department of Homeland Security. "Congress has lost confidence in my ability to run the agency. The media has made it clear that this is what they expected."
"I can be pretty stoic about it, but not really," she said. "It's painful to leave as the agency is reeling from a significant security breach."
White House press secretary Josh Earnest said Obama doesn't have a timetable for choosing a replacement. The president agreed with Pierson that "new leadership of that agency was required," he said.
Joseph Clancy, a retired special agent in charge of the presidential protective division of the agency, has been appointed as interim director. Earnest said Clancy is authorized to make any changes he sees as necessary.
Pelosi, Cummings
Pierson's departure follows a swell of criticism by lawmakers from both parties, including Obama allies Nancy Pelosi, the U.S. House Democratic leader, and Elijah Cummings, the top Democrat on the House Oversight and Government Reform Committee.
The furor stemmed from revelations that an intruder, identified as Omar Gonzalez, a 42-year-old Army veteran, managed to get deep inside the White House after scaling the fence on the north side of the building on Sept. 19 shortly after Obama had taken off in a helicopter.
While the service initially said Gonzalez was unarmed and was apprehended after entering the doors of the North Portico, court documents showed he had a folding knife in his pocket and Pierson acknowledged at a congressional hearing yesterday that he was able to cross two large halls and get across the East Room before being apprehended.
In court today, Gonzalez pleaded not guilty to federal charges of illegal entry to a restricted area while carrying a dangerous weapon.
Pierson 'Disappointed'
"I'm disappointed that I didn't have an opportunity to implement structural and operational changes in the agency," Pierson said. "I had a vision for the future. It's 31 years of service and a firm understanding of the organization."
Pierson said she spoke to Homeland Security Secretary Jeh Johnson at his office today. She tendered her resignation at that meeting, the White House said.
"We met in person and after that discussion I felt this was the noble thing to do," she said, because it would "take pressure off the organization."
Obama decided the agency needed new leadership "because of the recent and accumulating reports about the performance of the agency," Earnest said.
Elevator Ride
The breaking point may have come from revelations of a Sept. 16 incident in which the Secret Service unwittingly allowed an armed private security contractor with a criminal record to ride in an elevator with Obama. Agents discovered only after Obama left the area that the contractor was carrying a firearm and had a record.
Earnest said the White House only found out about that incident yesterday, "just minutes before it was publicly reported." Asked whether that factored into Obama's decision, Earnest would only say that "is part of the recent and accumulating reports to which I'm referring."
Earnest said while Obama retains full confidence in the Secret Service agents who protect him and his family, he supports Johnson's decision to appoint a panel that will conduct an independent review of the agency's response to the Sept. 19 breach and make recommendations on candidates for the director's job.
Multiple Stumbles
The Sept. 19 incident was the latest in a series of stumbles by the agency dating to the start of Obama's term, including gate crashers at a state dinner and agents discovered mingling with prostitutes in Colombia and another incident involving late-night drinking.
Lawmakers sought more details on why the Secret Service failed to initially identify and investigate another serious security incident in 2011 in which a man fired shots from a rifle at the White House, hitting the building at least seven times. It wasn't until four days later that the Secret Service realized shots had hit the White House after a housekeeper noticed broken glass and a chunk of cement on the floor.
Pierson was sworn in on March 27, 2013. In an Aug. 8 interview with Bloomberg News, she expressed confidence that she had begun to turn things around at the agency.
"It's been a year of challenges and success," Pierson said. "In any organization, people are going to make a mistake. But it's important for the public to know that this organization is going to maintain a high degree of standards."
More Lapses
Pierson soon confronted more embarrassing incidents and security lapses. In March, three U.S. Secret Service agents were sent home from Amsterdam on the eve of a presidential visit after one of them passed out intoxicated in front of his hotel room.
The incident involving the security contractor in an elevator with the president occurred during Obama's visit to the Atlanta headquarters of the Centers for Disease Control and Prevention on Sept. 16 and was only revealed yesterday.
Then came the Sept. 19 intrusion at the White House followed by a congressional hearing and calls for new leadership.
John Magaw, a former Secret Service director, said the steady stream of failures and what he said was Pierson's lackluster testimony during yesterday's contentious hearing made her departure inevitable.
"Too many things happening under her watch," Magaw said. "Her testimony was a disaster, maybe the worst I have ever seen."
Right Person
He said Clancy is the right person to take over. "He's a leader," Magaw said.
Clancy has been working in top-level security positions for Comcast Corp. since retiring from the Secret Service in 2011. Earnest said Clancy would take a leave of absence from his job to return.
Pierson's departure makes her the second consecutive Secret Service director to leave after coming under fire from Congress for lapses at the agency. She follows Mark Sullivan, who retired after a scandal involving agents cavorting with prostitutes while they were in Colombia preparing security for an Obama visit there.
The Secret Service has been part of the Department of Homeland Security since that agency was created following the Sept. 11, 2001 terrorist attacks. Homeland Security also houses the Transportation Security Administration, which controls airport security, and Customs and Border Protection, an agency that has been scrutinized amid an influx of unaccompanied child migrants entering the U.S. at the southwest border.
'Most Elite'
The agency has broad jurisdiction including protecting the president and foreign dignitaries as well as investigating counterfeiting and credit card fraud. The Secret Service describes itself in its strategic plan as "one of the oldest federal law enforcement agencies in the country and ranks among the most elite in the world."
Senator Tom Carper of Delaware, the Democratic chairman of the Homeland Security and Governmental Affairs Committee, today said in a statement that it's time for the Secret Service to "turn the page."
"It is critical for us to understand the obvious dissonance that exists within an agency that can secure an event with over 100 world leaders at the United Nations General Assembly in New York City for nearly three weeks without apparent incident, but simultaneously fail to keep an intruder from running into the White House," he said in the statement.
Before it's here, it's on the Bloomberg Terminal.
LEARN MORE