Is Russia Desperate Enough to Block Investors From Leaving?
By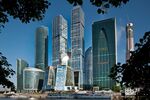 It's a good bet that things are getting dire when a government starts talking about preventing investors from pulling their money out of the country. Crisis-torn Ukraine imposed controls on cross-border capital flows while awaiting an International Monetary Fund bailout earlier this year. Venezuela has employed them in a spectacularly unsuccessful effort to keep its economy from collapsing.
Could Russia become the newest member of this unhappy club? The central bank is considering temporary action to curb capital outflows, which are forecast to reach as much as $120 billion this year, two officials with direct knowledge of the discussions have told Bloomberg News. Even temporary controls would be a humiliating turn of events for President Vladimir Putin, who has sought to develop Moscow as a financial hub.
The last time Russia imposed capital controls was in 1998, when the government devalued the ruble and defaulted on its debt. New controls would "erase the job the central bank and the government have done in promoting the ruble, not only as a national currency, but as a currency used in settlements with international partners," Alexander Losev, chief executive officer of Moscow's Sputnik Asset Management, tells Bloomberg.
Capital controls are a powerful weapon, but they have a big drawback for countries that employ them: They send potential foreign investors fleeing in the opposite direction. Investors, spooked by the prospect that Moscow might impose controls, have already sent the ruble plunging and pushed up the yields they demand to hold ruble-denominated debt. The ruble strengthened today, to about 39.7 per dollar, after the central bank sought to reassure markets by saying it had no plans to impose controls.
That's why capital controls are likely to be "a last resort" for the central bank, says Adam Collins of Capital Economics in London. "We think it is more likely that interest rates will first be raised further," with a likely hike in its key lending rate, to 8.5 percent, as early as November. Higher interest rates can help defend flagging currencies and stem capital outflows.
Capital flight, which topped $74 billion during the first half, is part of a growing list of economic woes in Moscow. The IMF predicted today that the economy will grow only 0.5 percent in 2015, half its earlier forecast, after growth of a mere 0.2 percent this year. Sanctions imposed by western governments are preventing some of the country's biggest banks and companies from tapping global capital markets. Putin, by slapping retaliatory sanctions on imported foods, has helped drive up inflation that's now running at 7.6 percent. All this, and renewed fighting in eastern Ukraine over the past few days, have raised prospects that the West could impose additional sanctions.
Before it's here, it's on the Bloomberg Terminal.
LEARN MORE