Reigning Central Banker of The Year Gets No Bond Respect
Eric Martin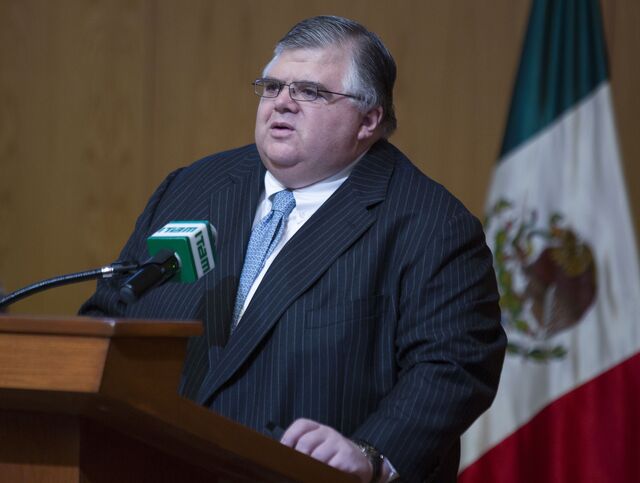 For all the accolades that Agustin Carstens has gotten as head of Mexico's central bank, he's had little success getting inflation down to its target since his tenure began in 2010.
That fact hasn't been lost on bond traders.
As growth in Latin America's second-largest economy starts to pick up, they now expect consumer prices will rise an average 3.5 percent over the next two years, data compiled by Bloomberg show. Their projection reached 3.69 percent last week, the highest level in more than 12 months.
The bond market is losing confidence in Carstens's ability to meet the 3 percent target with the inflation rate already at the highest since February, according to Bank of America Corp. Living expenses have increased 3.9 percent on average since Carstens, who was named Euromoney magazine's central-bank governor of the year in 2013, took the helm at Banco de Mexico.
"The trend is inflation that is clearly above the target and is going to remain above the target for a while," Claudio Irigoyen, Bank of America's head of Latin America fixed-income and foreign-exchange strategy, said by telephone from New York.
When contacted by Bloomberg News, Ricardo Medina Macias, a spokesman for the central bank, cited Carstens's interview with Radio Red today in which he said inflation will probably slow to 3 percent by the middle of next year.
'Good Job'
With slower increases in gasoline prices and the impact of tax increases implemented this year abating, the annual inflation rate will fall next year after soaring to 4.15 percent in August, Carstens said in an interview with El Financiero-Bloomberg TV broadcast on Sept. 29, according to a transcript.
The central bank seeks to keep price increases at 3 percent, plus or minus one percentage point.
"We've already had a number of years of being virtually at our objective on inflation," Carstens said. "I hope that we can get it next year."
While Carstens hasn't been able to reach the target, he's succeeded in slowing the pace of price increases by almost half from the 7.1 percent average during his predecessor's 12-year tenure. Mexico has also more than doubled its international reserves to a near-record $191 billion since Carstens became central bank governor.
IMF Bid
In his previous post as finance minister from 2006 through 2009, he guided Mexico through a recession amid the global financial crisis. Carstens has a master's degree and doctorate in economics from the University of Chicago.
After Carstens lost his bid for the International Monetary Fund's top job in 2011 to France's Christine Lagarde, Euromoney in giving Carstens its top central bank honor for 2013 said the "IMF's loss has been Mexico's gain." Mark Carney, governor of the Bank of England, won the award when he was the head of Canada's central bank in 2012, and People's Bank of China Governor Zhou Xiaochuan received it in 2011.
"Inflation will be very close to 3 percent in the first half of the year," Marco Oviedo, the chief Mexico economist at Barclays Plc, said by telephone from Mexico City. "The fact that medium-term inflation expectations remain very stable is a positive development. We could say that is a good job by the central bank."
Mexico's peso slipped 0.2 percent today to 13.4554 per dollar as of 2:57 p.m. in New York.
Bond Yields
With inflation picking up, the central bank's next move will be to raise interest rates by at least a quarter point in the third quarter of next year after cutting them to a record low 3 percent in June to revive the economy, according to the median forecast of economists surveyed by Bloomberg.
Yields on Mexico's fixed-rate bonds due in June 2016 jumped 0.25 percentage point last month to 3.60 percent, data compiled by Bloomberg show. That compares with an increase of 0.14 percentage point for similar-maturity inflation-linked notes. The yield gap between the securities, which forms a gauge of inflation expectations known as the break-even rate, has increased from 3.38 percent on Aug. 29.
Carstens is now contending with the likelihood that growth will accelerate next year, potentially adding to inflation, said Ociel Hernandez, a strategist at Grupo Financiero BBVA Bancomer SA.
The government forecasts Mexico's rate of economic expansion will accelerate to 3.7 percent next year and double by 2017 after President Enrique Pena Nieto overhauled the nation's oil laws and broke state-owned Petroleos Mexicanos's production monopoly, allowing companies such as Exxon Mobil Corp. and Chevron Corp. to explore for oil.
"There's more uncertainty because we're seeing a period in which inflation is coming in above consensus," said Hernandez, who recommends buying inflation-linked bonds maturing in 20 to 30 years. "Inflation should be lower at the beginning of the year, but it's going to be a very difficult challenge to reach 3 percent."
Before it's here, it's on the Bloomberg Terminal.
LEARN MORE