Narendra Modi's Unofficial U.S. Envoy Is a 33-Year-Old Congressman From Illinois
By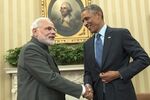 Narendra Modi's visit to New York and Washington this week was, in part, a way for the U.S. government to mend its relationship with a man who is now the prime minister of a country of 1.3 billion people. Barack Obama held a working dinner with Modi on Tuesday and received him in the Oval Office on Wednesday. Modi, for his part, pulled off two feats of public diplomacy that are not on the standard tour for foreign leaders. He spoke to 20,000 people, mostly Indian Americans, at Madison Square Garden and he offered an audience of 60,000 at the Global Citizen Festival at Central Park an enthusiastically received namaste.
Present for both these events was Aaron Schock, a 33-year-old Republican House of Representatives member from Illinois, arguably the best friend Modi has in the U.S. government. Schock helped arrange the appearance in Central Park, where he introduced Modi to the crowd. House and Senate members showed up for the Madison Square Garden speech—outside their own districts, in late September of an election year—in part due to Schock's determined whipping. According to Schock, that afternoon Steny Hoyer, a senior House Democrat from Maryland, put his arm around Schock to introduce him to Modi. "Oh, I know Aaron," said Modi. It's a relationship that's been good for both.

In 2002, from 850 to 2000 Muslims were killed in riots in the Indian state of Gujarat. Modi was the state's chief minister at the time, and he has since been dogged by accusations (PDF) that he failed to do enough to intervene. (Last year he was cleared by India's Supreme Court of any involvement in the riots.) After the riots, the U.S. denied Modi a travel visa (he's here now on a diplomatic visa), and for a decade had no diplomatic contact with Modi.
During that time, Modi became increasingly powerful within his Bharatiya Janata Party, then in opposition. Gujarat grew economically. Ford put a plant in the state, as did Tata Motors. This left the U.S. with a problem: a bad relationship, based on inconclusive evidence around a horrific event, with a man who could become very important. It became clear earlier this year that Modi's BJP would win, making him India's prime minister. Nancy Powell, the U.S. ambassador to India, met with Modi, the first such meeting since he was denied a visa.
Powell was not the first member of the U.S. government to meet with Modi. That was Schock in 2013, when he visited India with a group of Republican members of Congress. "I don't understand the justification for his treatment," says Schock, "given the way we treat leaders around the world who have been proven, beyond a shadow of doubt, to suppress religious freedom, to have incited violence against ethnic minorities." Before the trip, Schock says he consulted with the State Department, which advised him not to visit Modi. He also consulted with Condoleezza Rice, who had no objections.
"We landed in Ahmedebad," says Schock. "There are 20 television cameras, an Indian press pool like I've never seen." The visit was a big deal. To a domestic audience, the Americans—some Americans—had come around. After meeting with Modi, Schock briefed Powell, the U.S. ambassador, at her residence in Delhi. Once home, he successfully lobbied Speaker of the House John Boehner (R-Ohio) to invite Modi to address Congress. He asked for a classified briefing on the evidence against Modi, coming away unimpressed, he says. And he returned to India to visit Modi again, in part to broker the appearance at the Global Citizen Festival, an intervention reported in India's press.
For Schock, whose district includes farms and the headquarters of Caterpillar, the overriding goal of a relationship with India should be to lower trade barriers. India, even under Modi, has been obstreperous about trade—in particular, its subsidies for agricultural products. Schock is confident that, through hard negotiation with Japan and eventually via the Trans-Pacific Partnership on agriculture, the U.S. can bring India around.
Bloomberg Businessweek profiled Schock last year, when he came in second among House members in fundraising, behind only the chair of the Ways and Means Committee. Schock is a persuasive and ambitious man. He seems to find in Modi a kindred Reagan spirit, someone who can make things easy for business and who believes that commerce offers the way out of poverty. He said as much in his introduction to Modi at the Global Citizen Festival. (The audience that later cheered Modi's namaste was not interested in those points.)
For these purposes, Modi's distant past as a Hindu nationalist is irrelevant, something India's democracy decided when it made him prime minister. And in the future, it can't hurt for a young congressman to have the ear of an old prime minister. "When I met with Modi a year ago, I said: 'When you become prime minister, you're going to have a lot of friends,'" says Schock. "He said, 'I may be old, but I have a good memory.'"
Before it's here, it's on the Bloomberg Terminal.
LEARN MORE