Lamborghini Shows Cruiser Concept; Engine Roar Optional
Elisabeth Behrmann and Christoph Rauwald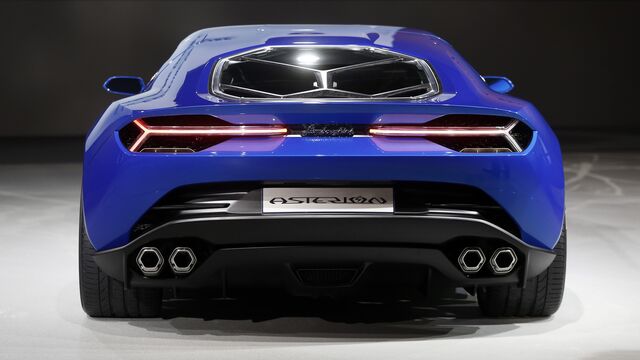 Part of the thrill of buying a Lamborghini is having an engine that growls louder than just about anything else on the road. That may eventually change.
The Volkswagen AG supercar brand debuted the Asterion, its first ever plug-in vehicle. The vibrant blue Lamborghini concept car glided soundlessly onto a stage at the Paris Motor Show yesterday under electric power.
"The sound of the motor is, among other things, in the DNA of the brand," Stephan Winkelmann, head of the Sant'Agata Bolognese, Italy-based carmaker, said at a Volkswagen event. The option to drive without emissions and engine noise "could work, and we believe there could be a future for this."
The show car, which combines three electric motors with a V10 engine for a total of 910 horsepower, can be switched between pure electric and the traditional combustion power. The model shows how emissions is playing a role even for elite performance brands.
The auto industry is struggling to comply with ever tighter environmental regulations and still meet consumer demand for cars that are affordable and offer the performance buyers expect.
VW Chief Executive Officer Martin Winterkorn expressed concern today that European Union emissions regulations would get even tougher after 2020. That said, he acknowledged there was no going back, with the automaker presenting plug-in hybrid versions of the VW Passat and Porsche Cayenne.
Permanent Change
"The automobile and the auto industry are changing, and this change is fundamental and permanent," Winterkorn said.
The Asterion, which accelerates to 100 kilometers (62 miles) per hour in as little as 3.0 seconds, according to the company, is bigger than the Huracan and the Aventador. The model probably won't be available in its current form.
"Today, we don't yet see this," said Winkelmann. "But it's of course the case that tighter emissions regulations force certain limits onto any carmaker. For us there's the additional challenge that our brand DNA needs to be preserved as we cut emissions."
Before it's here, it's on the Bloomberg Terminal.
LEARN MORE