IOC Says Rio Olympics Back on Track, Six Months After Criticism
Tariq Panja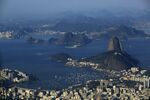 The International Olympic Committee said Rio de Janeiro has turned a corner and is making "huge progress" toward readying itself to stage the 2016 Games.
The inspectors' comments contrast with their remarks on their last visit to the city six months ago, when coordination commission head Nawal El Moutawakel told organizers that the time had come to match words with deeds after several projects fell behind schedule. Shortly after that, John Coates, an IOC vice president, said preparations were the "worst ever."
"We have seen a lot of progress," former Moroccan hurdler El Moutawakel told reporters yesterday at the end of a three-day inspection. "What was happening back in March 2014 is part of history. What we have seen so far is very impressive."
Responsibility for the games is divided between local and national governments, and deciding who was responsible for the various parts of a project that could cost as much as $20 billion had led to delays in construction.
Bolstered by a successful staging of soccer's World Cup this year, Rio's organizers appear to be back on track, according to Christophe Dubi, the new executive director for the Olympic Games at the IOC.
"There is no specific concern, something that keeps us up at night," Dubi said. "However we are in that critical phase and a lot has to be done."
Though she suggested everything was on track, El Moutawakel said special attention was being paid to how Rio was progressing with plans to construct 68 hotels and host 44 test events before the games open.
Sailing, Golf
Organizers also are under pressure to ensure that Guanabara Bay, the location for sailing, meets water quality standards. Before an event in August, some competitors said they saw floating debris, sewage and a dead dog.
Golf's return to the Olympics after a 112-year absence is also under scrutiny. A local court is evaluating a lawsuit against the city and a developer alleging abuse of environmental regulations.
"Rio and Brazil will experience by Aug. 5, 2016, a full transformation of the city, that in everyone's mind the Games will have an impact on the population and the entire country," El Moutawakel said. "The Olympic Games is something that's going to bring plenty of positive aspects."
Before it's here, it's on the Bloomberg Terminal.
LEARN MORE