To Get a Job at Goldman, Travel the World First
By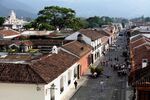 With its pick of well-groomed, Ivy League-educated students to choose from every recruiting season, Goldman Sachs is like the really popular kid everyone wants to be friends with. Those who paid $995 to gain entry to a higher education conference in New York on Tuesday were given exclusive insight into how to get into that clique by a Goldman executive whose job includes overseeing recruitment: Be a global citizen.
"There is no doubt that going forward, the need for our people to be versatile in their thinking is going to increase," Edith Cooper, global head of human capital management at Goldman, told an audience at the 2014 Higher Education Forum, a conference hosted by the Economist. "We have 33,000 people in 70 different locations in 30 different countries, and the key to capturing opportunities for clients is not just to be located everywhere but really have a culture where people act and think globally."
It's a nice sentiment—breeding a crop of analysts who can pepper corporate small talk with stories about climbing Mt. Kilimanjaro or chat up a client in their native language. Not everyone interested in a Wall Street job, however, can pay for résumé-padding experiences such as building homes in Guatemala, teaching English in China, or volunteering in an orphanage in rural Africa.
The average class of 2014 graduate who took out loans for college has $33,000 in debt, according to an analysis of government data conducted by Edvisors—nearly double what borrowers would have taken out 20 years ago. Tuition has soared 1,225 percent since 1978. Add in that wages haven't grown this slowly since World War II, and it's not surprising the cost of a plane ticket to an exotic locale is prohibitive for many students who'd like to "be global."
How do students catch the eye of recruiters if they can't finance impressive-sounding trips? Well, you could work really, really hard, like Musbah Dilsebo, a class of 2014 NYU Abu Dhabi graduate whose story NYU President John Sexton—who spoke on the same panel as Cooper did, "The Rise of the Globalized Worker"—shared with the audience. Dilsebo studied in a home made out of cardboard boxes and scored in the 96th percentile of the Grade 8 Ethiopian National Examination before, years later, making his way to NYU's campus.
"The resilience and perseverance and excellence" of Dilsebo is something that should serve as an example to all, Cooper said.
Dilsebo is an exceptional case rather than a reflection of reality for most poor students in the U.S. It's not always enough to work hard. Although university presidents have spoken ardently about the need to diversify their campuses, the percentage of low-income students at top colleges remains embarrassingly low, critics contend. At the same time, the costs are still high: A report by the New America Foundation found that 69 percent of private colleges ask their poorest students to pay upwards of half their family's income toward tuition. Even if a student gets into the type of school Goldman recruiters visit every fall, it's not clear he or she would have the money to attend, let alone gain global experience.
To that end, a firm as prestigious as Goldman Sachs is the labor market's equivalent of the "prom queen," said Economist correspondent John Prideaux. With the ability to cherry-pick a class of analysts from the Ivy League, why would Goldman reach out to applicants of different molds? And what does it do to recruit those who couldn't finance a globe-trotting stint or attend a top-20 school?
Cooper said Goldman sponsors workshops for first-generation students in community colleges, has a program to help women and men returning to the workplace after a break, and hosts a two-day "camp" for minority undergraduates at its New York headquarters.
"It's all done for one purpose, and that is that we believe to get to the best people, we have to be broad in our definition. We really challenge ourselves to try to get that diversity of experience," Cooper said.
Yet those efforts may not be enough. For Goldman Sachs to recruit diverse candidates, it may also have to chip away at an image problem. Former employees have said the bank is a "boy's club" where women are called "bimbos," clients are taken to strip clubs, and men are handed fatter paychecks. It's not just Goldman that's being called out: A blitz of headlines over the years has portrayed the investment banking world as a place where interns exchange secret fraternity handshakes with recruiters and black brokers are allegedly asked to "learn to play golf."
Being a global citizen may get you in the door of the boy's club. But it turns out membership to the boy's club might be a prerequisite to being global.
Before it's here, it's on the Bloomberg Terminal.
LEARN MORE