Hillary Clinton: Born to Run Against Christie in New Jersey?
Hillary Clinton leads Chris Christie by 10 points in the Garden State.
By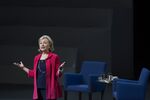 Hillary Clinton is beating Chris Christie in his backyard.
The former secretary of state and U.S. senator from New York leads Christie by 50 percent to 40 percent in a hypothetical 2016 matchup in his home state, according to a Quinnipiac poll released this morning.
"The adopted daughter next door whips the native son when it comes to presidential politics in New Jersey," Maurice Carroll, assistant director of the Quinnipiac University Poll, said in a statement.
Yes, we're more than two years from that election and there's a lot we don't know, including whether Clinton or Christie will run.
What this poll shows is that New Jersey is fundamentally a Democratic bastion, Christie's political success notwithstanding. New Jersey has voted Democratic for president in six consecutive elections, including by 18 points in 2012. Christie drew plaudits for his handling of the state's recovery from superstorm Sandy in 2012, though his dominance in last year's election owed partly to the weakness of his little-known Democratic opponent, Barbara Buono, who's no Hillary Clinton.
And governors don't necessarily replicate their statewide political success in presidential elections, which are contested over a different matrix of issues. Governors do not deliver their home states. Recall that Mitt Romney, a former Massachusetts governor, was trounced there in the 2012 election.
New Jersey voters are about evenly divided on Christie's nearly five-year tenure as governor, with 46 percent of New Jersey voters approving and 45 percent disapproving of his job performance, the Quinnipiac survey showed.
Still, Christie's success in New Jersey is key to his appeal as a national Republican candidate and keeps him in the conversation about the 2016 presidential election.
Christie told CNN this morning that he hasn't decided whether to run for president and will make that determination sometime "after the first of the year."
He could boost his stock with Republican successes in the 36 elections for governor. As chairman of the Republican Governors Association, Christie is courting donors and campaigning for his party's candidates.