Cheaper Ski Lift Tickets Now Come With a Rain Check
By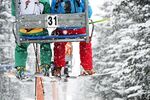 For nine years, San Francisco-based Liftopia has pushed its pricing algorithms on the relatively old-fashioned ski industry. It can, it says, identify the ideal ticket prices on days when many skiers aren't willing to pay the standard, steep rate. (The general pitch: It makes more sense for a mountain to sell 10 lift tickets for $73 than nine for $80).
 
The problem with buying tickets in advance, however, is being stuck skiing in freezing rain or some other unforeseen and unpleasant condition. This year, Liftopia is adding a new wrinkle to its menu of online ticket options: flexibility. Skiers will still find a full slate of discounted lift tickets, but now—for a bit more money—they can use the ticket on a different day. "If we're doing our job right, weather shouldn't matter," explains the company's chief executive officer, Evan Reece.
 
Here's an example. Late yesterday, Liftopia was selling a Feb. 3 "value" lift ticket at Killington, Vt., for $59, far less than the resort's standard $84 midweek rate. For an additional $5, at $64, one can make this a "Value Plus" ticket that can be transferred once at no charge, provided the skier pays any price difference Liftopia's pricing engine spits out. For $69, Liftopia sells the "Flexible" ticket, which has the same conditions but can be changed as many times as one wants.