The Medical Marijuana Case That's Left Justices Flummoxed
A quadriplegic man who says he only used medical marijuana at home was fired by Dish Network.
By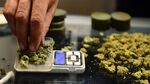 Like many Colorado residents, Brandon Coats uses medical marijuana. A quadriplegic who worked for the Dish Network, Coats was prescribed the drug to help him deal with seizures and spasms he has suffered since being involved in a serious car accident. So, when his employer administered a cheek-swab drug test in 2010 it predictably turned up the presence of THC, the psychoactive constituent found in marijuana, and Coats was summarily fired, the Denver Post reported.