The Medical Marijuana Case That's Left Justices Flummoxed
A quadriplegic man who says he only used medical marijuana at home was fired by Dish Network.
By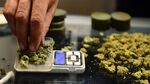 Like many Colorado residents, Brandon Coats uses medical marijuana. A quadriplegic who worked for the Dish Network, Coats was prescribed the drug to help him deal with seizures and spasms he has suffered since being involved in a serious car accident. So, when his employer administered a cheek-swab drug test in 2010 it predictably turned up the presence of THC, the psychoactive constituent found in marijuana, and Coats was summarily fired, the Denver Post reported. 
Coats, who says he only used marijuana while off-duty, sued Dish Network, and his case has now made its way to the Colorado Supreme Court. At issue is whether employers have the right to terminate employees for using medical marijuana, even if a state's voters have legalized its use. The case is just the latest legal conundrum for the court system as states push forward with a patchwork of new marijuana laws while federal statues on the drug have failed to keep pace. 
Lawyers for Coats have used the Colorado Lawful Off-Duty Activities Statute, which forbids an employee to be fired for doing something off-the-clock that is legal, in the case, and the state approved medical marijuana in 2000. Dish Network lawyers, on the other hand, do business in many U.S. states, and contend that the drug is illegal. 
That leaves the court to decide which statute trumps another, a task that appears to be causing no shortage of consternation for the justices. 
"Both counsel are asking us to write a discreet, well-crafted opinion," Chief Justice Nancy Rice said during Tuesday's testimony. "And I don't know what happened here."