Bill Clinton Cuts First Senate Ad of Midterms
Kentucky Democrat Alison Lundergan Grimes gets a boost.
By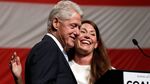 Kentucky Democrat Alison Lundergan Grimes is putting perhaps her most valuable surrogate, former President Bill Clinton, on television for the homestretch of her race against Senate Minority Leader Mitch McConnell.
A 30-second ad released today shows clips Clinton praising Grimes at a campaign rally.
"What's being a senator about, anyway?" a raspy-voiced Clinton asks the audience in the ad. "One candidate believes it's about getting new jobs, getting good jobs, giving middle class people a chance to give their kids a decent life. Nobody can tell me it's not a senator's job to create jobs, and I choose Alison, because she will work with people from both parties to do what's right for you. Send Alison to the Senate."
Clinton goes way back with the Lundergan family, and the former president was among the first to encourage the Kentucky secretary of state to get in the race. But he's also helpful to the candidate because he tends to play better than the party's top dog, President Barack Obama, in red states like Kentucky.