At Johnny Rockets, the Future of Retro Is Drive-In Movies
by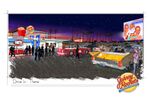 Walking into a Johnny Rockets, decked with cherry-red booths and servers in white uniforms and bow ties, feels like a Back to the Future experience without the DeLorean. The film that helped define 1950s nostalgia hit theaters just one year before the diner chain opened in 1986. Now the future of Johnny Rockets will focus on an additional relic of Americana and movies: the drive-in theater.
USA Drive-Ins, based in Indiana, plans to open 200 drive-in theaters by 2018, and a recent deal with Johnny Rockets will bring restaurants in many of the new theaters. Food will be delivered to moviegoers in their cars or served to walk-up customers (no carhops on roller skates, though). A single franchisee would own both the restaurant and the theater.

The drive-ins are part of Johnny Rockets's "Route 66″ initiative to launch a car-oriented side of its business. With Johnny Rockets primarily located in malls, shopping centers, and casinos, none of its 329 outlets have had drive-through windows; the company is just starting to build them. It is also franchising food trucks that can set up pop-up theaters through the partnership with USA Drive-Ins.
Johnny Rockets Chief Development Officer James Walker is particularly focused on the drive-through part of the plan because it will allow the chain to open in places that don't rely on foot traffic. The company expects average sales at drive-through restaurants to exceed those of existing restaurants, which on average take in just over $1 million annually. "The drive-through is the cake, the drive-in [theater] is the icing," says Walker.
The branding is a perfect match for the retro diner chain, even if drive-in theaters are a seasonal business and not exactly a hot trend in fast-casual dining. The American drive-in has steadily declined from about 4,000 theaters in the late '50s to roughly 300 left in the U.S. Adding the movie service will give the company a captive audience of anywhere from 500 to 700 cars per showing, with about 1,200 to 2,000 consumers, according to estimates from USA Drive-Ins Managing Director Bill Dever.
Walker sees the drive-in as a more-relaxed and social alternative to regular theaters, which have increased ticket prices as fewer people go to the movies. "Drive-ins aren't just about the movie, they're about the whole experience," Walker says. "You're able to interact with each other more than you would in an enclosed theater."
And there's expense. The average movie ticket costs about $8.15, according to Boxofficemojo.com. USA Drive-Ins plans to charge about $6 to $7 per adult and $3 per child. Those aren't quite 1950s prices, but at least you can get an ice cream float before watching the flick.
Before it's here, it's on the Bloomberg Terminal.
LEARN MORE