Angie's List May Be Shopping for a Good Buyer
By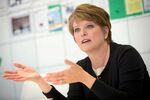 Angie's List, the recommendation portal that works somewhat like a Yelp for plumbers, painters, and dentists, might be ready to sell itself. The website has hired bankers to sound out prospective buyers but has not definitively decided on the next step, according to a report in the Financial Times.
The company gets about 10 percent of its revenue from e-commerce sales and is working to increase its business in that area, allowing people to purchase services just as they do products. But one trouble with the current model is the heavy marketing expenses needed to secure new members alongside a renewal rate that has been flat year over year. Angie's List claims 2.8 million members who pay for access to reviews of vendors.
Shares of Indianapolis-based Angie's List have tumbled more than 70 percent over the past year and hit a 52-week low of $6.28 on Tuesday. The shares surged 25 percent Wednesday, to nearly $8, on news of the potential sale.
The most logical buyers would be Home Depot, Amazon.com, or Google. All those companies would probably consider moving Angie's List from paid to a free reviews, which would complement online sales and cut marketing costs, wrote Northland Securities analyst Darren Aftahi in a client note. He upgraded the stock from "underperform" to "market perform."
Angie Hicks, a Harvard MBA, started the company in Ohio in 1995. She took it public in November 2011 at $13 per share. An Angie's List spokeswoman said the company does not comment on rumors.
Before it's here, it's on the Bloomberg Terminal.
LEARN MORE