pursuits
American Apparel Might Just Keep Dov Charney
By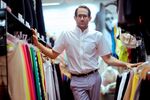 American Apparel had a tumultuous summer, as you may remember. The board of directors ousted the company's founder and chief executive, Dov Charney, surprising a lot of people, especially Dov Charney. He fought back against the accusations of misconduct. A hedge fund called Standard General stepped in. Five of the seven board members resigned, and Charney stayed on as a consultant. Standard General said a group of board members, called the Suitability Committee, would determine Charney's fate after independent investigators presented their results. The hope was to have everything more or less sorted out by September.
It's October, and Charney's future remains uncertain. The board now appears "increasingly open" to keeping Charney on in some role other than chief executive, according to a report in Bloomberg News citing people familiar with the matter. There's still no official word on the status of the investigation or the deliberations of the Suitability Committee.
Charney is controversial, of course, known for creating racy ads and a sexually charged culture at the company. He also employs more garment workers than anyone else in the U.S. and pays them living wages. Giving Charney a new position would, at the least, mean more publicity for a company whose biggest shareholder now is a hedge fund that never before needed a public-relations representative. It could also complicate the search for a permanent chief executive. Firing Charney, on the other hand, could mean an expensive and distracting legal fight at a time when the struggling retailer is actually starting to do better. And losing a founder is usually wrenching for a company.
Charney declined to comment, as did Allan Mayer, the co-chairman of the board and the one who confronted Charney back in June. (American Apparel also declined to comment.) Mayer and the board accused Charney of violating the company's sexual harassment policy and misusing corporate funds. Charney has denied the allegations. His lawyer called them baseless.
Some changes have already come. American Apparel announced earlier this week that Scott Brubaker, a managing director at turnaround firm Alvarez & Marsal, would become interim chief executive. He is replacing John Luttrell, who had been the company's chief financial officer and was filling in as CEO. Hassan Natha, who has worked at Fisher Communications and Jones Soda, will take over Luttrell's financial duties.
Brubaker has said that his job at American Apparel is temporary and that a search for a permanent chief executive could take months more. He also said that the company's clothes would still be manufactured, sweatshop-free, in downtown Los Angeles.
American Apparel's board now includes two women for the first time: Colleen Brown, a longtime media executive, and Laura Lee, a Google executive. Brown is on the Suitability Committee. Another new board member, Robert Mintz, comes courtesy of Lion Capital, an investor and ally of Charney. Mintz, an executive in the meat industry, has known Charney since they were kids.
Before it's here, it's on the Bloomberg Terminal.
LEARN MORE