A-10 Warthog Gets One Last Mission
By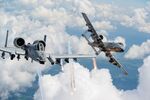 A combat plane the U.S. Air Force has been trying to kill is now headed off to war once again.
The A-10 Thunderbolt, a Cold War-era plane known by the nickname Warthog, is being sent from the Indiana National Guard to the 20-country military region known as U.S. Central Command, which includes Afghanistan, Iraq, and Syria. A statement released by the Indiana National Guard said the 122nd Fighter Wing  would send about 300 personnel on a deployment that is "historic for its length and size." The statement didn't specify if the warplanes would be used in the U.S.-led campaign against Islamic State fighters and other militants.
The A-10s were designed to destroy Soviet tanks and provide close air support for combat troops. The plane's most notable feature is a Gatling gun in the nose that fires 30-millimeter armor-piercing rounds.

For more than a year, the A-10 has been the subject of one of the Pentagon's fiercest budget fights with Congress. The Air Force wants to retire the jet in favor of funding the newer F-35 Joint Strike Fighter. By eliminating the A-10, the Air Force brass believes it could save more than $4 billion. The military also says the plane—the newest of which was built in 1984—cannot survive or operate effectively in combat missions against advanced defenses. "The time has come to move forward," Air Force Secretary Deborah Lee James said in a July interview with Breaking Defense, an online magazine that covers the military and defense industry.
The jet has survived—so far, at least—due to staunch political support led by Senator Kelly Ayotte, a New Hampshire Republican whose husband is a former A-10 pilot. A year ago, Ayotte placed a hold on James's nomination due to the planned retirement of the A-10.
The plane has also endured due to its proliferation with National Guard units and, to some extent, its periodic cameos in Hollywood blockbusters, most notably in Michael Bay's first Transformers, even if the Warthog wasn't terribly effective in that fictional fight.
The A-10 is an aircraft with a unique look and mission. The Army has long appreciated its ability to protect ground troops, complicating the issue for military budget planners. And it has legions of highly vocal fans among veterans of both aviation and infantry units, former service members who don't hesitate to urge Congress to keep the Warthog in service.
Among its many acts, Islamic State may have provided the A-10 a new mission.
(
Corrects the headline and first two paragraphs to indicate that an A-10 combat mission against Islamic State hasn't been specified by the U.S. military.
)
Before it's here, it's on the Bloomberg Terminal.
LEARN MORE