Wal-Mart Says Tracy Morgan Should Have Been Wearing a Seatbelt
By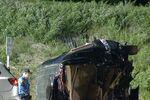 Comedian Tracy Morgan and his fellow passengers acted unreasonably by not wearing seat belts when they were struck by a Wal-Mart trucker, the nation's largest retailer said in response to a lawsuit the group of entertainers had filed. The group's injuries resulted from not taking "ordinary care" to use the seat belts in the limousine that was carrying them to New York.
"Accordingly, all or a portion of the injuries could have been diminished or minimized by the exercise of reasonable conduct in using the available seatbelts," as New Jersey law requires, Walmart said on Monday in its response to the lawsuit filed by the 30 Rock star and fellow passengers in July. The company is also trying to stave off claims of punitive damages, which can only be awarded if the plaintiffs can show that Walmart's actions were "wanton or willful."
Walmart's aggressive approach in defending the lawsuit suggests that, so far, the company has been unsuccessful in its effort to settle with the plaintiffs. Walmart spokeswoman Brooke Buchanan says talks between attorneys on both sides are continuing. In its filing, Walmart asks that the plaintiffs specify within five days how much they are seeking in damages. "We've had ongoing discussions to try to resolve this matter and we're committed to doing the right thing," she said.
Morgan's attorney, Benedict Morelli, did not immediately return a call seeking comment.
The June 7 accident killed James "Jimmy Mack" McNair, 62, and left Morgan, comedian Ardley Fuqua Jr., and Morgan's assistant, Jeffrey Millea, with broken bones and further injuries. Millea's wife, Krista, who was eight months pregnant at the time of the accident but was not in the limousine, also is a plaintiff in the suit. The group was returning to New York from a show in Delaware when they slowed for construction on Interstate 95 near Cranbury Township, N.J. just before 1 a.m. and were hit by the truck. The collision drove the limousine into six other vehicles.
The Walmart truck driver, Kevin Roper, has pleaded not guilty to charges of vehicular homicide and assault. Investigators said it appears that Roper fell asleep while driving and that he had not slept for 24 hours before the accident, which renewed calls for greater federal oversight of truckers' work hours. Roper commuted from his home in Georgia the day before his shift delivering goods in Delaware, Pennsylvania, and New Jersey. The National Transportation Safety Board is also investigating the accident.
Before it's here, it's on the Bloomberg Terminal.
LEARN MORE