Korea Says All Passengers Rescued From Sightseeing Ship
Shinhye Kang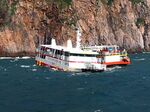 South Korea's coast guard said it rescued all passengers and crew from a sightseeing ship stranded off the country's southwest coast today.
All 105 passengers and five crew were rescued from the 171-ton 'Vacance' sightseeing vessel, which ran aground off the island of Hongdo, about 340 kilometers (210 miles) southwest of Seoul, at 9:10 a.m. today, a coast guard official said by phone in Mokpo, asking not to be named citing official policy. The rescue was completed by about 9:30 a.m. and two people suffered minor injuries, he said.
The ship was operated by Hongdo Cruise Co-operative, a venture between the island's residents and outsiders, the Chosun Ilbo newspaper reported. The 355-capacity Vacance was built in Japan in 1987, Yonhap News said, citing registration documents. It entered Hongdo service in May, making 2.5-hour trips around the island three times a day, Yonhap said.
Calls to the company's Hongdo office phone number listed in the Korea Shipping Association directory weren't answered.
Maritime safety has become a key political issue in South Korea following the April sinking of the Sewol ferry, also off the country's southwest coast, which left more than 300 people dead. President Park Geun Hye pledged an overhaul of the shipping industry to improve standards and said the existing coast guard should be disbanded.
Hongdo, meaning 'red island' in Korean, is a popular sightseeing destination famous for the sunsets that give the island its name, according to the Korea Tourism Organization.
Before it's here, it's on the Bloomberg Terminal.
LEARN MORE