Rajan Warns Ultra-Low Rates May Distort With No Benefits
Anoop Agrawal and Harsha Subramaniam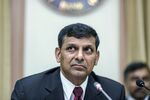 Indian central bank Governor Raghuram Rajan warned that near-zero interest rates in developed markets may be distorting asset prices without creating any real gain in economic activity.
"We have had ultra-low interest rates for close to six years, and at some point you have dug a hole so deep in terms of asset prices that any attempt to get out of this has an immediate effect on asset prices," Rajan said in an interview with Bloomberg TV India. While that may be worth the price to spur the economy, if it doesn't respond "then you may have incurred the cost of distorted asset prices without the gain of real activity." The debate remains inconclusive, he said.
Rajan, 51, left India's interest rates unchanged yesterday for a fourth straight meeting, continuing a fight against Asia's fastest inflation as Prime Minister Narendra Modi takes steps to revive the manufacturing sector. He joined counterparts from Russia and Brazil in holding interest rates in September as he seeks to reduce entrenched price pressures to create conditions for sustainable economic growth.
Federal Reserve Chair Janet Yellen and her colleagues last month stuck with a pledge to hold interest rates near zero for a "considerable time" after they end asset purchases, probably this month. The European Central Bank in September announced a final round of interest rate cuts and a plan to buy privately owned securities, pushing the region's debt yields negative.
'One Tool'
Central bankers are being asked to do too much, Rajan said.
"We have one tool, interest rates," Rajan said in the interview yesterday. "And my worry is we may be in danger, as a tribe, in overcompensation for deficiencies in other parts of the system, could be fiscal, could be structural, could be forms of various kinds. Many of them require political consensus, which may be missing."
Rajan, a former chief economist at the International Monetary Fund, sparred with former Federal Reserve Chairman Ben S. Bernanke earlier this year over how much international policy coordination is needed. He said central banks in developed economies must do more to assess the impact of their stimulus on other nations.
"Globally the risk is real as extremely low interest rates and absence of market volatility dims risk perception," Mumbai-based Shubhada Rao, an economist at Yes Bank Ltd., said by phone. "We'd be naive to think there won't be outflows from India, but we're definitely in a better position to manage this than we were in 2013."
Rajan took steps yesterday to shield India from the fallout of tighter monetary policy abroad. He allowed importers to hedge more of their non-rupee exposures, and permitted banks to boost government bond holdings that can be used to borrow emergency funds when market conditions call for additional liquidity.
Fed Tightening
Rajan said he's "not overly concerned" about a crash in Indian markets or sudden outflows when the Fed raises rates because the RBI has taken steps to increase maturity of debt inflows. A year ago, overseas investors withdrew investments and pushed the rupee to a record low amid signals from the Fed that it would begin paring its record monetary stimulus.
"No doubt, news of the Fed tightening, some other country taking action on interest rates will affect us," Rajan said. "But after the initial reaction there will be order among emerging markets, and in which case our domestic policies will become more important."
The rupee strengthened 0.1 percent to 61.71 per dollar as of 3:36 p.m. in Mumbai today. The S&P BSE Sensex index fell 0.2 percent and the yield on the 10-year sovereign bond dropped to 8.49 percent from 8.51 percent.
'Starting Blocks'
Rajan said the rupee should be assessed against a wider basket of currencies instead of only the dollar, and urged companies to hedge their foreign-exchange exposures no matter how they currently view the currency. Rajan said Modi's government still has a window to take advantage of lower oil prices to cut fuel subsidies, and called for measures to narrow the fiscal deficit, improve growth and reduce inflation.
"I would say that we're right off the starting blocks," Rajan said when asked about the economic recovery. "It's still too early to see strong evidence of the investment cycle coming into play. We've said we need to see more evidence of that to put this recovery on firm footing, so we're sort of hopeful."
India's growth accelerated to 5.7 percent in the quarter ended June 30, the highest since the March quarter of 2012.
Rajan yesterday kept India's benchmark repurchase rate at 8 percent, as predicted by all 51 economists in a Bloomberg survey. He said the central bank was on pace to hit its consumer price inflation target of 6 percent by January 2016, discounting a Reserve Bank of India model that said 7 percent was likely.
'Party Pooper'
"The understanding of my team is that as of now, given what we've set interest rates at, we are still on course to reach the 6 percent by 2016, no matter what the model says," Rajan said. "But the model is telling us that at least from past experience, there's a higher chance we will miss."
Rajan said other central bankers are starting to worry more about asset bubbles. While determining whether asset prices are inflated is always subjective, policy makers often see that booms are accompanied by significant credit growth, exchange-rate movements and higher real estate prices, he said.
"You don't want to be the party pooper," Rajan said, in explaining how central bankers must balance risks. "You want to make sure the party stays relatively sober."
Before it's here, it's on the Bloomberg Terminal.
LEARN MORE