Obamacare Mystery: Why Can't You Buy Vision Coverage?
Congressional gridlock means eye exams and glasses aren't covered
By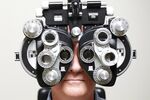 When healthcare.gov opens enrollment for new health insurance plans on Nov. 15, it will offer a wide array of medical and dental coverage options. But because of a wrinkle in the way the Affordable Care Act was written, consumers won't be able to find eye insurance on the government exchange.
Under Obamacare, health plans offered on the exchanges must cover medical vision care like cataract surgery. They also have to pay for eye exams and glasses for children. Those same health plans, however, aren't required to cover glasses or contact lenses for adults; and federal tax credits that help people buy insurance on the exchanges can't be applied to stand-alone policies.
That's a problem for people who can't otherwise afford glasses or contacts. Vision insurers also argue that the situation works against Obamacare's focus on preventive care. "There are a number of disease states that are detected in eye exams," says Rob Lynch, the chief executive of VSP Global, which provides vision coverage to 67 million Americans. Those conditions include diabetes and hypertension, exactly the kind of chronic conditions the health-care program was designed to help control.
In principle, Congress could fix the problem by amending the original act to add vision coverage to the health exchanges and make it eligible for subsidies. Optometrists suggest another approach: Require all basic health plans to cover corrective lenses, not just procedures involving conditions such as cataracts. Having eye care covered under medical plans, rather than as a separate benefit, would ensure that everyone who needs coverage would get it, says Stephen Montaquila, a Rhode Island optometrist and an officer of the American Optometric Association. "We created a fragmented system," he says.
VSP argues that it pays the same ACA tax that medical insurers do, so it should be able to compete on the marketplaces. But Republicans are so deeply opposed to the health-care law that they won't allow tinkering with it. Lawmakers blame regulators, Lynch says; regulators say they can't do anything until the statute is changed. (A spokeswoman for the Centers for Medicare and Medicaid Services, which oversees the Obamacare exchanges, declined to comment.) "Everybody points the finger at somebody else," Lynch says.
Vision care isn't the only lapse in Obamacare that hasn't been fixed because of congressional paralysis. Workers whose companies offer health benefits for employees, but not their families, can't qualify for subsidies to cover the cost of insurance for their spouses or children. Almost 2 million people may fall into that gap, according to the American Action Forum, a conservative think tank. Another quirk: Hearing aids are covered only in some states. "In normal times, you could find a consensus to fix glitches," says Larry Levitt, a senior vice president at the Kaiser Family Foundation, a nonprofit focused on health issues.
Without relief from Washington, VSP is taking its case to the states. Colorado, Nevada, and Hawaii already let shoppers buy vision plans on state exchanges.
Even that approach has its limits. In August lawmakers in California, where VSP is based, unanimously passed a bill adding vision to its state-run Obamacare marketplace, Covered California. Governor Jerry Brown vetoed it on Sept. 25. In a statement explaining why, Brown wrote that he didn't find it "advisable to divert Covered California's focus with a new scheme, the governance of which may be impermissible under federal rules."
BOTTOM LINE -
The bottom line: Under Obamacare, there are gaps in coverage that can't be fixed because of Republican opposition.
Before it's here, it's on the Bloomberg Terminal.
LEARN MORE