Obama-Modi Meeting Offers Chance to Reset U.S.-India Ties
Shobhana Chandra and Roger Runningen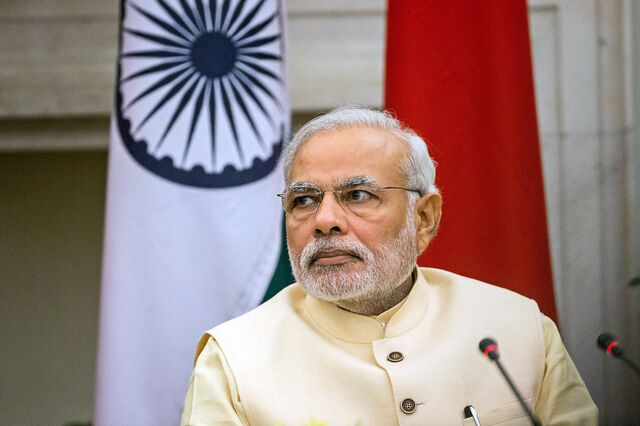 President Barack Obama and Indian Prime Minister Narendra Modi's meetings in Washington to give the two leaders a chance to reinvigorate an economic relationship that both see crucial to growth and security.
The two days of talks, which began with a private dinner for Modi at the White House last night, are pivotal, U.S. officials said ahead of the summit. In addition to Obama's sessions with Modi, Vice President Joe Biden and Secretary of State John Kerry will host today a luncheon for the Indian leader.
This is the first time Obama and Modi have met, and it also is Modi's first visit to the U.S. since he was denied a visa in 2005 over anti-Muslim riots in his state of Gujarat three years earlier. Modi won a landslide election win in May, and the U.S. is seeking to repair relations while India is wooing foreign investors to revive its economy.
"The U.S. is eagerly trying to move forward with Modi in order to put the past behind them," Milan Vaishnav, an associate in the South Asia program at the Carnegie Endowment for International Peace in Washington, said in a phone interview. "The two sides have a foundation in terms of a bilateral government-to-government relationship and a people-to-people relationship to build on. In terms of a leader-to-leader relationship, this is almost like starting anew."
Washington Visit
Modi's agenda in Washington includes a visit to the Capitol to talk with members of Congress and meetings with business leaders, rounding out his five-day trip to the U.S. On the first leg of his trip he addressed the United Nations General Assembly in New York and spoke to a gathering of almost 20,000 mostly Indian Americans at Madison Square Garden.
Talks will focus on areas of mutual interest including trade and investment, security, defense and clean energy. Beefing up intellectual property protection and reducing constraints on American business investments in India will also be on the agenda.
The two sides will discuss regional issues including current developments in Afghanistan, Syria and Iraq, where India and the U.S. can work together, the Obama administration said in a statement yesterday.
"We have a vision that the United States and India will have a transformative relationship as trusted partners in the 21st century," the White House said in the statement titled "Chalein Saath Saath: Forward Together We Go." It also said the relationship would be "a model for the rest of the world."
Modi's Mandate
Modi's sweeping victory at the polls in May gave him an electoral mandate, and the U.S. secretaries of state, commerce and defense have paid visits to India in recent months to smooth the way for the talks at the White House.
In a sign of the visit's importance, the Obama administration invited Modi to be a guest at Blair House, the presidential guest quarters across the street from the White House and an honor reserved the most high-level U.S. partners. Obama last night hosted the private dinner for the prime minister, even though Modi is on a nine-day religious fast.
Crisped Halibut and mango creme brulee was on the menu, according to the Indian Embassy in Washington, and Modi gifted Obama a special print of Hinduism's holy scriptures as interpreted by Mohandas Karamchand Gandhi, whom Obama regards as among his heroes.
BlackRock Inc., the world's largest asset manager, will host a global investors meet in India in early 2015, Indian foreign ministry spokesman Syed Akbaruddin wrote on Twitter. Modi met BlackRock CEO Laurence D. Fink yesterday.
Trade Ties
While in New York, Modi also met chief executive officers of U.S. companies including Boeing Co., General Electric Co., Goldman Sachs Group Inc., Citigroup Inc., PepsiCo Inc. and Google Inc. In Washington, he will meet more business leaders at an event hosted by the U.S.-India Business Council later today.
U.S. trade with India was about $63.7 billion in 2013 for exports and imports of goods, though with services the total is closer to $100 billion a year. An Obama administration official, who briefed reporters on condition of anonymity before Modi's arrival in Washington, said the potential trade is five times that figure.
Before it's here, it's on the Bloomberg Terminal.
LEARN MORE