Obama Joins With Modi in Pledge to Expand Economic Ties
Roger Runningen and Angela Greiling Keane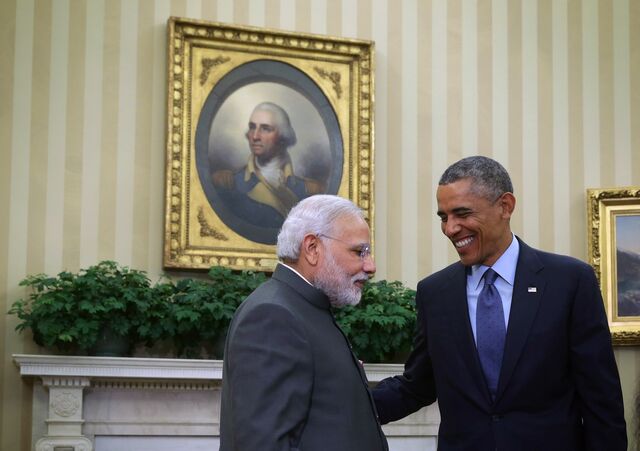 President Barack Obama and Indian Prime Minister Narendra Modi said the U.S. and India will establish a joint program to boost business investment and signed an agreement to expand defense and security cooperation.
Obama and Modi spoke in the Oval Office at the end of two days of talks at the White House that focused on ways to reinvigorate the U.S.-India relationship through economic, energy and security cooperation with a goal of spurring growth in both nations.
The meetings between Obama and Modi, which included a private dinner last night at the White House even though Modi is fasting, were described as pivotal by administration officials because U.S.-India relations soured when Modi was denied a visa in 2005 over anti-Muslim riots in his state of Gujarat three years earlier.
Following his meeting with the U.S. president, Modi said his U.S. visit "has reinforced my conviction that India and the United States are natural global partners."
He said he's confident of India's rapid economic growth and will focus his government on making it easier to do business in India, particularly for U.S. companies helping develop the Indian defense industry. Modi said he asked Obama's help in giving Indian service companies access to the U.S. market.
The new investment initiative will be overseen by the Indian Ministry of Finance and the U.S. Treasury, according to White House press secretary Josh Earnest.
Security Issues
Obama said the two also discussed "security challenges" that include the Islamic State extremists in Iraq and Syria.
The two countries agreed to disrupt "financial and tactical support" for Asian and Middle Eastern terrorist groups including Lashkar-e-Taiba in South Asia, Jaish-e-Mohammed in Kashmir and the Haqqani Network in Afghanistan, Syed Akbaruddin, spokesman for the Indian Ministry of External Affairs, said on Twitter.
Human rights and "inclusive governance" also came up during the discussions between Obama and Modi, Earnest said.
"He's publicly spoken about his desire to be a leader for all Indians," Earnest said. "Those are aspirations that the United States would strongly support."
Expanding Markets
Since 2005, Modi, 64, won a landslide election in May, and both sides say they're eager to reset relations. India seeks greater foreign investment and the U.S. seeks expanded markets and a strategic Asian counterweight to China's growing influence.
"The U.S. is eagerly trying to move forward with Modi in order to put the past behind them," Milan Vaishnav, an associate in the South Asia program at the Carnegie Endowment for International Peace in Washington, said in a phone interview. "In terms of a leader-to-leader relationship, this is almost like starting anew."
In an addition to their schedule, Obama took Modi on a personal tour of the Martin Luther King Jr. memorial on the National Mall after their White House meeting. King's approach to ending discrimination against blacks in the U.S. was inspired by Mahatma Gandhi's non-violent teachings.
Modi then headed to a luncheon hosted by Vice President Joe Biden and Secretary of State John Kerry.
A key item on the agenda for both sides is clearing the way for business and expanded trade.
Business Openings
India "is extremely bureaucratic, there's a lot of red tape but there's also a lot of graft and corruption," U.S. Representative Aaron Schock, Illinois Republican, said on Bloomberg Television "Surveillance" program today, citing comments from executives of U.S. companies.
Modi earned high marks as a "straight shooter" when he was chief minister of Gujarat state from 2001 to 2014, Schock said. Illinois-based Abbott Laboratories built a facility in that state because of his reputation, according to Schock.
"If we're going to build more infrastructure, sell more Caterpillar tractors, we have to have certainty in the courts, more certainty with intellectual property," he said.
Modi said his government is "focusing in India not just on policies but on processes" to allow for business growth.
Investors Meeting
BlackRock Inc., the world's largest asset manager, will host a global investors meeting in India in early 2015, Indian foreign ministry spokesman Syed Akbaruddin wrote on Twitter. Modi met BlackRock CEO Laurence D. Fink yesterday.
In New York earlier this week, Modi met chief executive officers of U.S. companies including Boeing Co., General Electric Co., Caterpillar Inc., International Business Machines Corp., Goldman Sachs Group Inc., KKR & Co., Citigroup Inc., MasterCard Inc., PepsiCo Inc. and Google Inc. He'll address the U.S.-India Business Council in Washington later today.
U.S. trade with India was about $63.7 billion in 2013 for exports and imports of goods, though with services the total is closer to $100 billion a year. Potential US-India trade could be five times that amount, an administration official said.
As Modi attempts to increase India's domestic strength and play a larger global role, many countries, including the U.S., will be wary of "becoming too involved" in India, until it signs the Nuclear Nonproliferation Treaty or is willing to accept rules of the World Trade Organization, according to Stratfor Global Intelligence, which provides advice to individuals, investors and governments.
"Modi will continue his tour through the U.S. promising change and Washington will be eager to see it," Stratfor said in a Sept. 28 commentary. "But the U.S., like Asia, will want to see Modi successfully lobby for change with his own people before they will be willing to part with the doubts and dollars."
Before it's here, it's on the Bloomberg Terminal.
LEARN MORE