May Takes On Racism in Play for Thatcher's Nasty Party
Thomas Penny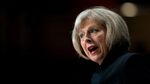 To people outside the U.K., a government minister talking about ending the persecution of young black men by the police might seem unremarkable.
When Theresa May did so in her speech to the ruling Conservative Party's convention yesterday it was the latest landmark in a 12-year battle to modernize her party that reinforced her claim to succeed Prime Minister David Cameron as its leader.
In 2002, as Conservative chairwoman, May was met with a deluge of criticism as she told delegates the Tories previously led for 15 years by Margaret Thatcher had to soften their image and stop being the "nasty party." Her latest call for an inclusive and tolerant approach to policing drew warm applause.
"I am determined to make sure that nobody should ever be stopped and searched because of the color of their skin," May said. "Imagine what it's like to feel, deep down, that this is only happening because you're young, male and black."
May's performance in Birmingham, central England, gave further credence to the prime minister's suggestion in a television interview earlier in the day that she was a possible successor along with London Mayor Boris Johnson and Chancellor of the Exchequer George Osborne. Bookmaker William Hill Plc installed her as second favorite to become the next Tory leader, with odds of 4/1, behind Johnson on 2/1 and ahead of Osborne, at 10/1.
'Sensible, Statesmanlike'
"The idea of once again electing a woman as leader -- recalling Margaret Thatcher -- is appealing," Wyn Grant, professor of politics at Warwick University, said in a phone interview. "She offers a sensible, statesmanlike form of leadership; tough leadership that's in tune with basic Conservative values and not susceptible to eccentricity like Boris Johnson."
Born in Eastbourne on the south coast of England, the daughter of a clergyman, May, who turns 58 today, was best known in Britain's tabloid press for her taste for leopard-print kitten-heel shoes before she was appointed to her current job. She started her working life at the Bank of England before becoming head of European affairs for the Association for Payment Clearing Services, a financial-services trade association.
EU Reform
She has not worked to cultivate the media in the same way as some of her colleagues and has faithfully supported Osborne's economic policy of deficit cutting, reducing taxes for business and reforming the pension system. She flirted with her party's euro-skeptics yesterday with a swipe at the European Court of Human Rights, while backing Cameron's plan for European Union reform, renegotiation of the terms of Britain's membership of the 28-nation bloc followed by an in-or-out referendum in 2017.
May's rise has been all the more notable because she has achieved it despite being home secretary since May 2010, a job that has traditionally been the graveyard of political careers. She's been the longest in the post since Rab Butler, who held it between 1957 and 1962.
Tony Blair told his party conference in 2002 that "I don't have the toughest job in government," the home secretary does. When John Reid was appointed to the role four years later, he said the department wasn't "fit for purpose." It was Reid's last job in government.
'Remarkable' Journey
"Her journey has been quite remarkable," Andrew Russell, who teaches politics at Manchester University, said by phone. "She's gone from being the person who told the Tories that they were perceived as the nasty party to a very serious figure who's popular with the rank and file."
Married with no children, May has overseen a series of terrorist alerts and had to struggle with the limitations of coalition government. She accused the Liberal Democrats, whose votes are needed for government legislation to pass through the House of Commons, of being "outrageously irresponsible" for blocking a proposed law that would have allowed the monitoring of electronic communications.
Her credentials as a tough-talking reformer were burnished with a speech four months ago to the Police Federation, the labor union representing officers in England and Wales. May told the organization, which has been at odds with the Home Office for decades, that she would cut its government funding and said policing would have to change after a series of scandals.
Facing Reality
"If there's anybody in this hall who doubts that our model of policing is at risk, if there is anybody who underestimates the damage recent events and revelations have done to the relationship between the public and the police, if anybody here questions the need for the police to change, I am here to tell you that it's time to face up to reality," May said then.
A spat with Michael Gove, one of Cameron's closest political allies and then education secretary, demonstrated her ability to out-maneuver her opponents, a crucial skill if she is to win the Tory leadership.
Gove briefed the Times newspaper that May's department was failing to fight extremism, and May's adviser, Fiona Cunningham, responded by releasing a letter from May to Gove questioning his department's reaction to warnings about hardline Islamists infiltrating schools in Birmingham. Gove apologized, Cunningham resigned and a month later Gove was demoted. May kept her job.
May emerged "emboldened and strengthened" from the argument and consolidated her position in the party as a result, according to Russell of Manchester University.
Battling Extremism
Her speech to the Tory conference yesterday majored on the battle against extremism at home and abroad and was given added resonance as it coincided with the first U.K. airstrikes on Islamic State positions in Iraq.
"We must not sleepwalk into separation, segregation and sectarianism," May told delegates. "The rule of law, democracy, equality, free speech and respect for minorities. These are the values that make our country what it is. There is no place for extremism here."
At an event five hours later, May was asked whether it bothered her that every time she made a good speech, people questioned her about her leadership ambitions. She laughed.
"The message I had today in my speech was a very serious message," she said. "As far as I'm concerned, the important thing is that that message is now out there."
Before it's here, it's on the Bloomberg Terminal.
LEARN MORE