Man Fired for Medical Pot Takes His Case to Colorado's High Court
By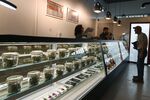 The Colorado Supreme Court is hearing arguments Tuesday on whether an employee can be fired for using medical marijuana, and it's just a preview of the kinds of conflicts ahead as more states legalize the drug.
The plaintiff, Brandon Coats, has sued Dish Network for terminating his job as a telephone operator in 2010. Coats, a quadriplegic who was paralyzed after a car crash, said the company broke the law by firing him for using marijuana after work to mitigate his muscle spasms. Colorado is one of 23 states with laws decriminalizing or legalizing medical marijuana use. Yet decriminalization or legalization alone wouldn't stop companies from firing marijuana users—just as employers can fire workers for a wide range of outside-work activities, from volunteering for the AIDS Foundation to running for political office.
Unlike most states, however, Colorado also has a law protecting employees from being fired for any "lawful activity" outside work. Today's case turns on the meaning of the word "lawful." Because Colorado voters decriminalized medical marijuana use in 2000, Coats believes Dish owes him his job back. A state appeals court rejected that argument last year, noting (PDF) that medical marijuana use remains illegal under federal law. "An activity that violates federal law but complies with state law cannot be 'lawful' under the ordinary meaning of that term," the court ruled in a decision that didn't take a position on whether decriminalization was enough to make medical marijuana "lawful" under state law.
Coats is now asking the state Supreme Court to overturn that ruling. "Attitudes are changing toward marijuana. Laws are going to have to change, too," he told the Associated Press. "I'd like for this to enable people like me to be able to find employment without being looked down upon." Dish, in an e-mailed statement, said it is "committed to its drug-free workplace policy and compliance with federal law."
Since Coats was fired, Colorado and Washington became the first states to legalize recreational as well as medical use of pot, setting the stage for more legal showdowns. "If Mr. Coats can't win this case," his attorney, Michael Evans, said earlier this year, "then nobody can."
Before it's here, it's on the Bloomberg Terminal.
LEARN MORE